Keep It Kaimuki Celebrates Small Businesses in Neighborhood
Shoppers, restaurant-goers, and community members of Kaimuki bustled up and down Waialae Avenue as Keep It Kaimuki Saturday returned to an in-person format Saturday, Nov 26.
Kaimuki is an area where large franchises are few and small businesses run the town. In an effort to unite the neighborhood, The Public Pet owner Jordan Lee and Ten Tomorrow owner Summer Shiigi created the group Keep It Kaimuki, which is a branding that inspires consumers to support the small businesses that call Kaimuki home. 
Keep It Kaimuki Saturday falls annually on Small Business Saturday, the day after Black Friday. From 10 a.m. to 5 p.m., event-goers were able to shop deals and discounts from 40 of the businesses scattered throughout Kaimuki, enjoy live music and dance performances held at Aliʻiolani Elementary School, keiki activities, and a trolley available with seven stops to make exploring the neighborhood easier. 
"Itʻs been about three years since we've had an in-person event [due to Covid-19]," Lee said in an interview the Tuesday before the event. "So the aspiration is really just to get that heartbeat going again and definitely activate the community. Always supporting the small businesses within our neighborhood is always the number one priority for Keep It Kaimuki."
KIK Saturday volunteer Morgan Nishisaka, one of 62 volunteers, said that the event was well-organized and easy to volunteer for, and everyone involved was kind and straightforward. Moving to Kaimuki only three months ago from Huntington Beach, the 24-year-old said that exploring the coffee joints and local shops helped her feel a sense of community in Kaimuki and makes the neighborhood feel like a "hidden gem."
Long-time Kaimuki resident Brandon Maeda, alongside his 10-year-old dog Millie, said that his favorite part of the day was "seeing all the people and pets out and about visiting and shopping all the stores."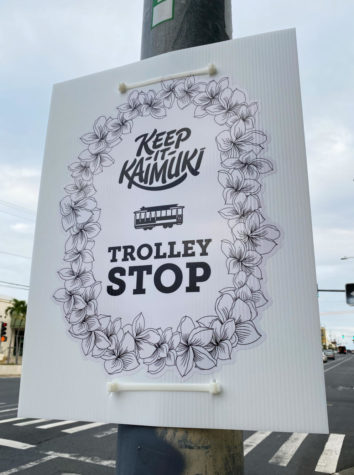 As the event winded down around 4 p.m., Lee and Shiigi reflected that both were pleased with the turnout. 
In comparison to past years, this was the first time trying out the trolley services, which included two trolleys rotating through seven stops up Waialae Avenue every five to ten minutes. Additionally, this was the first year Aliʻiolani Elementary School was utilized for performances instead of Kaimuki Community Park on Waialae and 10th Avenue.
Some acts included in the performance lineup came from one of Kaimuki's newest neighbors, the Chuck James Music School, which had two rock bands that each performed for 15 minutes.
Manager Justin James, son of owner Chuck James, thought the elementary school served as the perfect venue for the performances, and the whole event was strong in emphasizing the push to shop local.
"Everything is becoming big conglomerates," James said. "Kaimuki is kind of holding it down for the small businesses right now and in an uprising kind of way, meaning it's younger people and it's fresher new places. One day, 10 years from now, Waialae is gonna be new buildings with businesses on the bottom and units at the top, and it's gonna be slamming."
Kuʻulei Koko, 19, enjoyed riding the trolley and being able to explore the local businesses. While she considers her hometown to be Nanakuli, she spends plenty of time in Kaimuki while she dorms at Chaminade University of Honolulu, where she's in her second year of undergrad studying Biology. 
Koko said her favorite restaurant is Super Pho Waialae for their beef pho, iced coffee, and desserts. Her favorite place to visit is the swings at Kaimuki Community Park on Waialae and 10th Avenue, where she regularly goes to wind down after her classes.
"I love the sense of community in Kaimuki," Koko said. 
Lee attests to the certain fulfillment that comes with making the choice to shop local and contribute to the livelihood of the Kaimuki neighborhood. 
"Seeing the direct impact of people's lives when you choose to shop at a smaller boutique or a privately owned restaurant," Lee said, "versus going crazy at Target and not seeing where that money goes or who that money benefits" is the impetus behind the support for small businesses.
As someone who's called Kaimuki his home for more than 40 years, Maeda mentioned that Keep It Kaimuki brings a stronger presence — both in establishing a neighborhood sense of unity, and by showcasing what Kaimuki has to offer to the world via social media. Prior to the rise of KIK, one of the only things to bring  the neighborhood together was the annual Kaimuki Christmas parade.
"One thing that we are so grateful for and we love Kaimuki for is the people who live in or frequent this neighborhood are so protective over their shops and where they like to go," Lee said. "No one likes to see their favorite store close, so it was really a communal effort to see people frequent these shops just to keep them open."