CUH Welcomes Therapy Dogs to Help Relieve Stress
With finals week just around the corner, Chaminade's Student Affairs hosted a Take Time to Paws Stress Relief event in conjunction with K9 TheraPets of Hawaii to help students take a much-needed break as the final days of the semester approaches. 
K9 TheraPets of Hawaii brought four dogs (three golden retrievers and one swift collie) onto campus for two hours Thursday afternoon at Zuberano Courtyard. Students were pleased to have the company of multiple dogs during the most stressful time of the semester. 
"It helped to relieve my stress a lot, especially right before finals," said Liana Rae Bermudes, a sophomore majoring in Nursing. "Dogs are really comforting and with being stressed all week, this is just making me really happy right now." 
With finals week starting on Monday, Student Affairs wanted to find a way to help students destress. 
"We were trying to think of different stress relief events to do during or before finals week this year and came up with the idea of therapy dogs," said Stari Nakano, Assistant to the Dean of Students. "We know that other college campuses have had this kind of event, so we thought we would give it a try." 
Due to some people having allergies and Chaminade being a dogless campus, it was uncertain if this would be possible but it was eventually approved to allow the first ever therapy dog event held on campus. 
"It's a great break for the faculty and staff too, being able to pet these dogs helps with the everyday or added stress with finals," Nakano said. "It's also great for our students who are far away from home who may be missing their pets while they are away at school."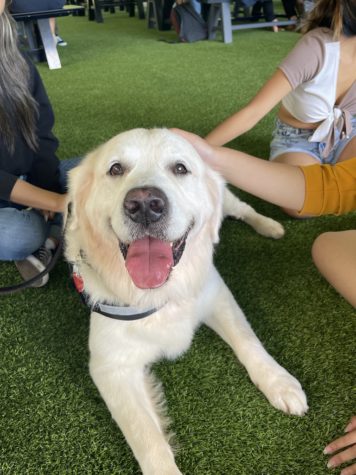 Nakano reached out to K9 TheraPet of Hawaii to bring dogs for students on campus. 
K9 TheraPet of Hawaii is a local group of volunteers who are all certified, with certified therapy dogs under the Alliance of Therapy Dogs. ATD is a volunteer organization of dedicated therapy dog handlers and dogs that provides support services for members who seek volunteer animal-assisted activities. These activities include hospital visits, special need centers, schools, nursing homes, and airports. 
"It's a lot of fun for the students and fun for us volunteers as well because these events help relieve our stress too," said Fay Jitchaku, president and founder of K9 TheraPets of Hawaii. "It's really different from visiting hospitals and other situations where we have to be more careful with our dogs. Events like these, we have students who are adults, so we don't have to be as cautions compared to when we attend elementary schools." 
This time of year is busiest for K9 TheraPets of Hawaii due to school finals week and the upcoming holidays. 
Jitchaku's team consists of roughly 25 members and about 30 dogs. However, not all could attend Chaminade's event due to another booking at Leilehua High School that required more members. 
"I think this event is very helpful in boosting all of the students' moods," said Jaylise Royos, a sophomore majoring in Nursing. "This is the most I saw campus students smile."