PIR Celebrates Hawaiian Club's Senior Sendoff, Paniolo Performance
A heartfelt senior sendoff touched the crowd during the Hawaiian club's performance at Pacific Island Review.
Friday's PIR was a night when the Micronesian, Filipino, Hawaiian and Samoan clubs were able to showcase their culture on the Sullivan Family Library lawn for the first time since 2019. Ka Ipu Kukui Me Ka ʻie ʻie, Chaminade's Hawaiian club, shared a part of its roots that is rarely shown, Hawaiian cowboys, known as paniolos. Following several paniolo-themed dances was a senior sendoff performance featuring four of its club members as they danced for the last time at PIR.
Kaycia Mailo-Kaheaku is a senior Forensic Science major who has been in the club for four and a half years. She credited her experience in Ka Ipu Kukui Me Ka ʻie ʻie as her drive to perpetuate Hawaiian culture and noted the emotional impact of her last performance at Chaminade.
"Honestly, it just felt surreal," Mailo-Kaheaku said. "It was just unbelievable hearing everybody screaming for us and knowing that's the last time we're gonna perform with our classmates and whatnot. I try not to cry, yeah I try not to cry."
Alia Mercado, a Psychology major and co-president of the club, expressed her sentiment of departing from the close-knit organization.
"I feel like I'm definitely gonna miss everyone's different personalities," Mercado said. "Everyone's so fun, and it's just a great time. Every time we meet up, we practice and everything. This club is a family."
Her sister and co-president of the club, Alaina Mercado, is a fifth-year Elementary Education major who has been dancing hula for 15 years. As she reflected on her time participating in PIR, she recognized the importance of events that expose others to new cultures.
"I think a lot of students come from everywhere, so it's nice to see new cultures that you don't always see," Mercado said. "It's nice that Chaminade can bring that to you. … It's like this community feeling. It's amazing. You don't get that in other places."
Maximilian D.E. Morise, a Political Science major and transfer student from St. Mary's University in San Antonio, Texas, was one of four men who dressed as paniolos and danced in the Hawaiian club performance. He didn't know about paniolos until his arrival in Hawaiʻi. Paniolos predated America's western cowboy culture by decades when King Kamehameha the Great brought in vaqueros from Mexico to train Hawaiians to handle cattle.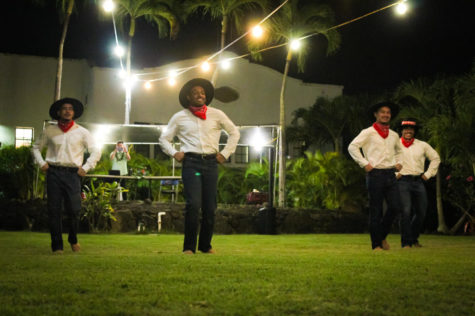 "I was shocked that Hawaiʻi had cowboys in general," Morise said. "Yeah. Again, coming from Texas, we thought we were the cowboy capital of the United States, so this was pretty shocking, but it's been really interesting to find out."
Morise was also part of the special senior performance where each of the three seniors from Hawaiʻi lei'd him as a departing gift from both the university and Hawaiʻi.
"It was extremely emotional for me," Morise said. "All the friends I've made here, they've been really close to my heart … this was an experience that I've never had before. Seeing all the multicultural dances and being part of the Hawaiian club really opened my eyes to a lot of things, not just in Hawaiʻi, but also in the entire Pacific as a whole."