Filipino Club Impresses at PIR and Soon…The United Nations
Chaminade University's Filipino Club had not only been preparing for Pacific Island Review for the past three weeks, Mondays and Thursdays for three hours but also to perform for the United Nations on Nov. 29 at Sullivan Library Lawn for the CIFAL Honolulu Center. 
"Dr. Gail, the director of the Chaminade CIFAL center extended the invitation to cultural clubs," said Filipino Club's co-president and third-year Biology major Jannabel Bielza.
Chaminade is part of the United Nations Institute for Training and Research (UNITAR) and this year, the university will have the honor of hosting a conference in Hawaii. 
On Friday, Chaminade University hosted its annual fall semester Pacific Island Review at Sullivan Library lawn altogether for the firs time since 2019 to celebrate and watch performances by the pacific island clubs on campus such as the Micronesian Club, Filipino Club, Lumana'i O Samoa club, and Ka Ipu Kukui Me ka 'ie 'ie Hawaiian club in one night. 
"I grew up on Oahu and I only speak English, and it was cool to be in my culture and experience it firsthand," said first-year Nursing major Kryzandreah Español. "It's nice learning about the culture with other people because when I am learning it from my parents, I feel like they are way too strict with me."
Español has been a member of the Filipino club since the beginning of the fall semester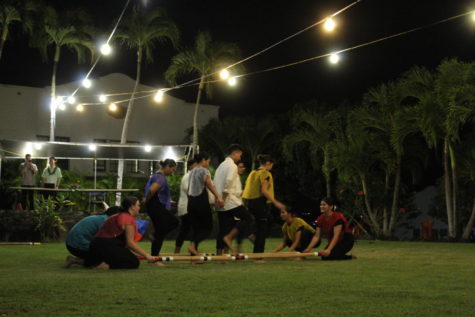 because she wanted to take a break from the studying and stress of school while connecting with people in her free time. 
Although this was her first-ever performance with the Filipino club, Español said she feels like the club made Filipinos proud. 
"My aunties and mom were proud to watch us perform because they danced tinikling when they did it when they were younger because they lived in the Philippines," Español said.
The Filipino Club surprised the crowd with its mix of traditional dances and hip-hop music. The members  performed tinikling to songs such as "Hot in Herre" by Nelly, "Fine China" by Chris Brown, Filipino trap, and even invited the crowd to dance with the club during the "Electric Slide."
Tinikling is a Filipino folk dance that involves two sliding bamboo poles on the ground and against each other in coordination with one or more dancers who step over and in between the poles in a dance. 
"It's an easy beat to dance to and it sounds good. Plus there's a lot of Filipino hip-hop that mixes well with English hip-hop like "Bebot" [meaning attractive woman in Tagalog] by the Black Eyed Peas we did last year," said fourth-year Biology major Connor Howe who has been a member since his sophomore year. 
For Howe, who is half Filipino, he said is proud of their performance because a lot of people attend just to watch the traditional dance. 
"We get to have fun together and celebrate Filipino food and dancing," Howe said.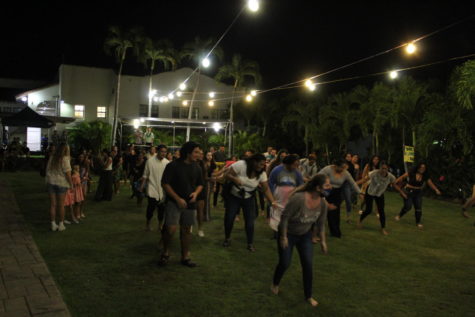 For Bielza, she said planning the club's performance for PIR was more difficult than expected. 
"To be honest, it was a bit of struggle, especially when we have a lot on our plate, being a Bio major is a lot and then we have jobs," Bielza said. "We are hoping that for the next Extravaganza we do a little more traditional dancing so instead of just tinikling we will bring candle dancing."
She said that it was easy for the members of the club to pick up on the traditional tinikling dance because the officers used what they learned last year during Extravaganza in this year's performance. 
"Last year for Extravaganza, our first time being presidents, we had help from the last president, and she helped teach us the basics of tinikling and this was our take on it," said third-year Biology major Kaleilehua Lopez who is also Filipino club's co-president. "Since we knew the members were going to be new to it [tinikling], we wanted to slow it down and then have some parts that were hyped up to engage the crowd."
This was both Lopez's and Bielza's  first time performing with the Filipino Club at PIR as co-presidents due to being given the responsibility of leading the club the last minute last semester.
Last year, the Filipino Club was unable to perform in CUH's full week of PIR performances and instead, performed a cooking demo for members and students to enjoy.
For Lopez, performing with the Filipino club is one of her proudest moments.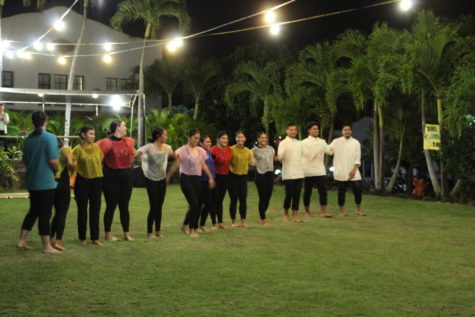 "For me, growing up, I wasn't really into my Filipino culture, it wasn't taught in the household besides the food so I wanted to join the club to learn more about my culture," she said.
"They just keep getting better and better each year," said second-year Psychology major Regine Familaran.