CUH Students Enjoy Spooky Stretches on Campus
Chaminade students were seen laughing, cheering, meditating, and of course, stretching as they participated in "Spooky Stretches" led by Kanika "Nikki" Utley on Friday afternoon at the Zuberano Lawn.
"Spooky Stretches" was organized and hosted by the Office of Student Activities and Leadership (OSAL). Thirteen students were led through a series of team-building exercises and games, meditation and breathing exercises, a bit of grounded yoga, as well as learning more about appreciating oneself, which Utley referred to as Bootcamp Olympics.
"This is my fifth time back on campus," said Utley, who owns Bold Bodies by Nikki. "This is my first time doing Bootcamp Olympics with everyone. Before I did different forms of meditation and breath work and yoga. This is the first time I introduced elements of bootcamp olympics."
Students began the event with some light dynamic exercises with some squats and jumping jacks, which transitioned into fun team exercises and games. Students were split into teams and faced off with games such as a three-legged race, a competitive game of heads-shoulders-knees-and-toes with a twist, and timed hula hoop games.
While the event was only an hour, Utley made sure that the atmosphere was still relaxed yet exciting and fun.
"Everyone in my classes can laugh, they don't have to be perfect, it can be crazy, we can be quiet, we can be grounded, we can be centered, we can listen, we can be loud, and we can be chaotic," said Utley, who used to work as a producer on shows like "Dateline NBC" and Oprah Winfrey's "Your Own Show". "I just follow the flow of everything and everyone. I don't try to manage or micromanage the group too much. The way I teach, I am actually allowing those who are in attendance to actually lead without them really knowing they're leading in some way. It's a tug-of-war with energy."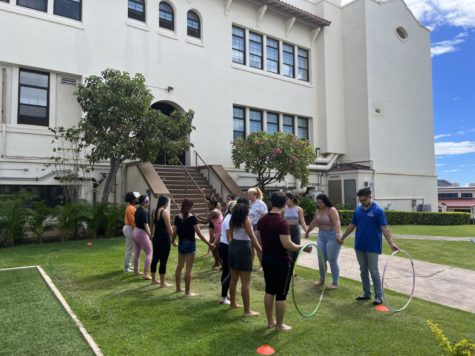 After all the team competitions had come to a close, Utley led the students through grounded yoga and sound-bowl meditation with breathing exercises to cool down. Students thanked their bodies while reciting positive affirmations.
"The whole thing was really enlightening," said Angel Navor, a 20-year-old freshman Business major. "I felt very challenged but I think it was really fun. Nikki has a lot of energy, which made things really exciting."
Not only did students appreciate the fun activities they got to participate in, but they also expressed their appreciation for having a few minutes to thank their bodies.
"My favorite part about the entire session was learning to love and appreciate yourself," said Kirstin Hirata, a 19-year-old Forensic major.  "Our bodies do so much for us and I think a lot of us forget to thank them for doing so much work. It's a really great way to get in contact with yourself and your body and be one with yourself."
Utley's aspirations and goals for this session were simple as she hoped students would take what they really needed from her activities. Whether it was an opportunity to get some exercise, have a moment of peace and clarity, or learn to love themselves more.
"I just wanted people to have fun and be comfortable in their skin," Utley said. "I wanted people to be who they are and if that meant they ended up loving themselves more, perfect."