Campus Ministry Revives 1st Awakening Retreat Since COVID-19
Chaminade University's Campus Ministry will host its first Awakening Retreat since 2019 at Saint Stephen's Diocesan Center from this Friday to Sunday. This year, Chaminade's Awakening Retreat will be #42: "New Wine, New Skin." 
According to campus minister Maimoa Fineisaloi, the name of the retreat was inspired by a part of the bible about how you can't put new wine into old wineskin because it'll burst. She said it references how Campus Ministry had to take a different approach post-pandemic compared to the past pre-pandemic.
Awakening Retreat is a three-day weekend retreat for undergraduate students at Chaminade. It is rooted in the Catholic nature and faith, however, it is open to everyone who hopes to discover and make new connections with oneself, others, and their spiritual life. The retreat invites students to experience a deeper love for their spiritual awakening through small group sharing, prayer, and fellowship.
"It's an opportunity for students to step away from the chaotic nature of school and get to not only have that secluded time with other peers, but also really think about where they stand in terms of their spirituality," said fourth-year Interdisciplinary Studies major Jacqueline Martinez, who attended Awakening Retreat in 2019. "Awakening Retreat reminded me that I was at a stage in my life where I could pick for myself and explore my religious affiliations on my own rather than being told what they are." 
Martinez said that while attending Awakening Retreat, students should have an open mind and be willing to participate in activities with new people that might be out of their comfort zone.
"The first day was a little awkward for me just because I was put in a group with completely new people and right off the bat, a lot of things we were talking about were less surface level and a little more personal," she said. "It felt like I was catching up with people I had known for the longest time even though we had just met the day before."
Awakening Retreat at Chaminade is notorious for being kept secret in terms of activities and what is planned for the entire weekend.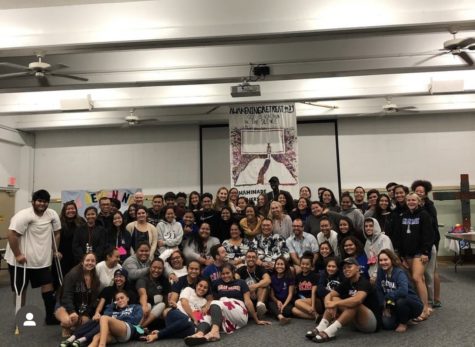 According to Martinez, although many students think Awakening Retreat is strictly religious, it is open to all students, religious or not. 
"We know not everybody going on the retreat is Catholic and not everybody is Christian because of the demographics of Chaminade, which is wonderful, it's a good exchange," said campus minister Father Chris Wittmann. "That kind of diversity sometimes fosters good conversations and sharing and more awareness. We hope it has the potential to build some momentum because everyone is struggling to get back to a more normal life after Covid, and we've lost ground in a certain way and our comfort level in sharing and being together."
Martinez said that for people who aren't religious, the retreat is a good experience to have in the opening of your college journey because not only will it give you a lot of connections close to your age, but younger and older as well. For people who are religious, Awakening is one of the building blocks of figuring out whether you're going to solidify the beliefs you had when you were younger or take the path into finding something else that fits more in what you believe. 
"A lot of the benefit of going to one of these things with how secretive it is, is that you can't downplay anything in your head and have an opinion about something you're going to do already," said Martinez. 
This year, Campus Ministry is expecting 41 confirmed students, compared to the 47 who attended back in 2019 prior to Covid.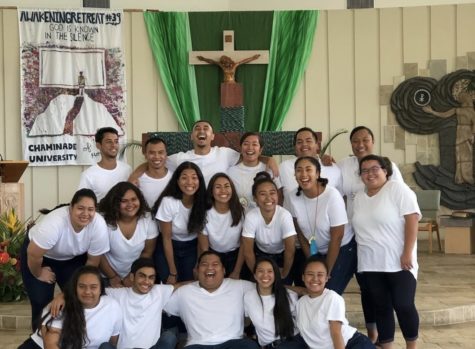 Fineisaloi said she thinks this year's retreat will reintroduce Campus Ministry to students and for them to see what they do for the campus community, not just religious affiliation. 
"Going on this retreat, we are giving people a safe space to express their authentic self," she said. 
According to Fineisaloi, Awakening Retreat originated from Texas A&M University. There are many other universities across the country who also host Awakening Retreats along with our sister school in Dayton, Ohio. 
"Awakening to us might be a thing of ours, but it's really bigger than us, bigger than Chaminade," said Fineisaloi. 
For more information and updates about Chaminade's Campus Ministry Awakening Retreat and events coming up, visit its website and Instagram.