Thousands Attend 1st Honolulu Intertribal Powwow Since Covid-19 Pandemic
It was hot at Bishop Museum last weekend, as dancers in full Native American regalia performed under the sweltering Hawaii sun for the 46th annual Honolulu Intertribal Powwow.
But when one well-intentioned observer noted how hot it was and how she could never perform in such heat to 23-year-old dancer Darrell Brertton Jr., who had flown in from the Saddle Lake Cree Nation in Alberta, Canada, he used the teaching moment to illustrate why their presence there was so much more important than just for show.
"I dance for my ancestors," said Brertton. "I dance for the ancestors that passed away, those that fought for my freedom in all the wars, World War I, World War II, all the different wars that we had. And not only that but all the ancestors that passed away because of Indian residential schools, … I dance for all my ancestors that passed away and then I dance for all those that are survivors and all the intergenerational trauma that we face as First Nation people, Metis Inuit, Native American people. And even though it's hot, even though it's hard, even though it's heavy, that's what keeps me going. It's the reason why I dance and I feel really good that I'm able to do that and also make other people here just like her feel absolutely amazing just by seeing me perform and dance on the dance floor."
Educating others about First Nation's culture is what Brertton advocates for. He is an award-winning dancer who travels across Canada and the United States to educate others on his culture, and has a TikTok account where he has 89,600 followers with whom he shares his cultural content.
This year's powwow marked the first time in two years that the Native American population on the island of Oahu could come together on a large scale. According to the U.S. 2019 census, there are over 6,000 Native Americans living in Hawaii; however, many are unaware about the community on the island.
The Oahu Intertribal Council is one of the Native American organizations in Hawaii that works towards creating a space for the community to come together. According to the Oahu Intertribal Council President, the first day brought in over a thousand attendees and the second day had almost a thousand visitors.
"There is a Native American community in Hawaii," said Lisa Kannoi, the president of the Oahu Intertribal Council who represents the Sivuqaq Yupik, Native Hawaiian, and Okinawan communities. "Maybe not a lot of people know that, but we don't know where they are. Sometimes we just run into each other by accident and find out about each other. That's also another important reason to have them [the powwows]. You know, like there's the Japanese and Filipino communities who all have their own clubs and organizations. We are really small so this is just great to have every year. Plus, people that have grown up around it makes them feel at home when they come to this."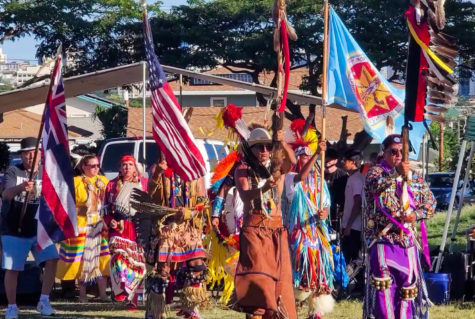 The powwow showcased many aspects of culture through dances such as the grass, hoop, fancy, and the all inclusive intertribal dance. There was a fry bread stand, various vendors, and live music, but it also highlighted social justice topics. Kanaka Maoli and Native American communities have faced similar struggles throughout history and stand in solidarity with each other on issues such as land desecration and water pollution. They advocated for the missing and murdered indigenous women, girls, and two-spirit individuals who are both masculine and feminine. The Red Hill, and Standing Rock protests were topics of focus and they honored those who worked towards activism for the various movements.
"I hope that they take away not only healing and education, but also a better understanding, a different lens, a different perspective of our first nation, Native American people, because there's a lot of negative stereotypes, but our culture is actually really, really beautiful," said Brertton. "And there's also a lot of people just like yourself that are going to school, getting their degrees, getting their diplomas, being educated, getting their masters, becoming lawyers, becoming doctors and they're Navajo, they're Cree, they're different tribes, different first nation tribes. And they're paving the way and making a huge impact for our people being educated and breaking that cycle. Yeah, breaking that intergenerational trauma cycle."
The next powwow in Hawaii will be the Hawaii Island All Nations Powwow on Saturday and Sunday at Keaukaha Hawaiian Village Beach Park, Hilo, from 10 a.m. to 4 p.m.