CUH Academic Advising Hosts Career Carnival
On Wednesday, the Office of Student Success hosted Chaminade University's first in-person Career Carnival since the start of Covid-19 at Zuberano lawn from 11 a.m. to 1 p.m. Students had the opportunity to play interactive games, have their resumes reviewed, learn about the Pono Internship Fund, and talk with different employers of their interest. 
"At the last career fair, employers mentioned that there wasn't foot traffic and they weren't too happy with the amount of engagement from students," said CUH's career advisor Diane Yang who planned the entire event. "It's hard coming out of a pandemic because virtual settings are completely different from networking in-person."
All of the employers who were invited to connect with undergraduate students at the carnival were Kupu, Kamehameha Schools, Enterprise, Target, Northwestern Mutual, Make-A-Wish Hawaii, Hawaii Marine Animal Response, Hawaii Behavioral Health, Hawaii National Bank, and Aramark.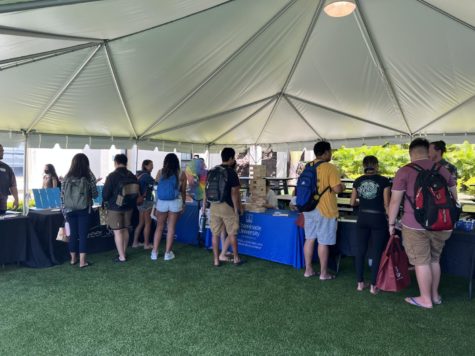 In order for students to engage with each company, attendees were given a passport sheet that was required to be signed by each table for the chance to win a goodie bag and entered to win a giveaway.
Yang said that this was meant to be different from the traditional career fair where students had to feel like they have to dress up. Rather, they could foster career development in a casual setting and connect with people.
"This is an informal way for folks to get practice networking and connecting people in the industry outside of a setting like an interview," she said. "Employers make first impressions based on how you have your conversation with them at a booth if that's where you're meeting and sharing opportunities with and so communication is very important."
Students who checked out the event wanted to find an opportunity of their interest and relating to their career rather than settling for an experience just for the money.
"I would rather be happy with what I am doing and make money instead of being unhappy with it," said first-year Environmental and Interior Design major Calleigh-Rose Lee. "I feel like a lot of us have financial worries for the future so a job would help with that."
For other students, the intimate setting was convenient for them to socially interact with employers they had never heard of before.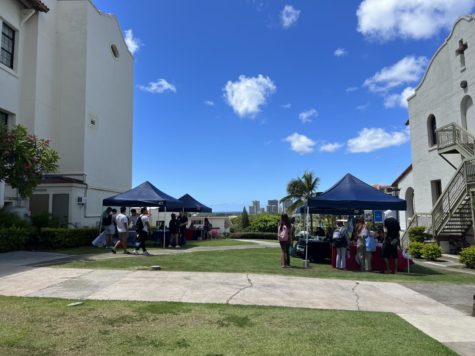 "I feel like here is a lot more comfortable reaching out and talking to people because we (our generation) weren't really taught to reach out to and talk to people as much," said first-year Criminology major Tanya Paia. "I think it's important that Chaminade has these events because students will obviously have more opportunities to get jobs and it's a pathway for them."
Although it's common for students to think they need to absolutely know what they are going to straight out of college, many of the employers who attended were willing to give students their first professional experience in the working world.
"We are looking for students who are coachable, someone who is open minded and willing to accept feedback," said Northwestern Mutual's director of Internship Development Ivy Martin. "Even if you don't like something you can get some transferable skills if you decide to go into another path."
Martin, who has attended virtual career workshops with Chaminade before, said it was difficult reaching out to students prior to the event because of the pandemic. 
Some of the employers even spoke about their own personal experiences finding employment during and after college which forced them to be open-minded and learn more about themselves. 
"My issue coming out of college was 'you can only be a doctor, lawyer, or engineer and that's it,' but throughout the conservation field, I realized that there were over a million jobs you can do out there," said Kupu's recruiting specialist Anna Garcia. "I think whenever you are in high school and in college, you kind of have this set plan and someone who is telling you what to do next so it's easy to follow that path," she said.
Garcia said she had only been working as Kupu's recruiting specialist for three days prior to the career carnival and worked as a service member with Kupu under their CLDP (Conservation Leadership Development Program) during her last year as an undergraduate in 2021. She graduated with her bachelor's in Biology from the University of Hawaii at Manoa in May. 
With the presence of many sources outside of Chaminade, there were also CUH staff members who also hoped to connect students with opportunities relating to their major and desired career. 
"There's opportunities everywhere and this is just a sampling of what it's like, but the cool thing about these is that they are all connected with one another, " said the Chaminade's Service  learning associate director Mitch Steffey. "It's more of the exploration of what you can do and how you fit into the world."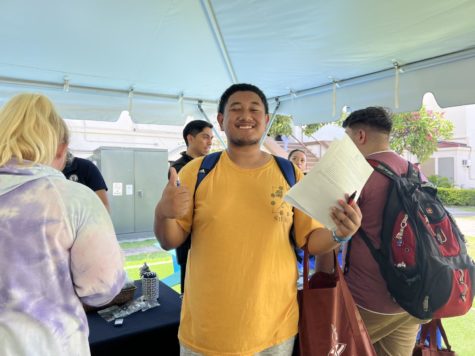 Steffey said the newly renewed Service Learning program is set to launch in January that he rebuilt from the ground up. 
"Part of what we do partially helps students get to different careers because if you are volunteering in a community, you can volunteer somewhere you directly want to work with and you get to know people outside of Chaminade," said Steffey.
That was  the case for one Chaminade student who sought for an employer more related to his major. 
"It was a good opportunity for other majors, but specifically for business majors," said second-year Forensic Science major Isaiah Atalig. 
Atalig said he had the privilege to complete an internship over the summer for six weeks at UCLA learning about their medical school and anatomy, which helped him prepare for his future relating to his major. He was introduced to the line of work through CUH's Undergraduate Research and Pre-Professional Program Director Dr. Amber Noguchi.
"I am always worried about my timeline. I feel like if you worry about your career now, you won't have to worry about it in the future, so having an idea of what you want to do will make you feel more set," he said.