CUH Students Strive For Better Futures With Internships
On Nov. 18, the Office of Student Activities and Leadership and Alumni Relations teamed up to host an internship workshop at Hale Hoaloha where CUH students could meet with other students who have completed internships throughout their Chaminade career. The workshop also provided the opportunity to speak with companies about possible internship opportunities and chances of employment who have some kind of relation to Chaminade and want to expand their networks.
The event was hosted by third-year Criminal Justice and Psychology major, Pamela Oda; director of Alumni Relations, Jeannie Lum; and employer relations coordinator, Devon Seward Howland. Oda is OSAL's Student Coordinator as well as the Chaminade Student Government Association's director of programming.
Howland ran the panel asking the six students who were former student interns about their experience interning, where they interned, and the kinds of skills students can expect to gain from participating in an internship.
"With an internship, it's almost like having a job with a professional so you have to interact," said third-year Nursing major Hannah Hovestol. "You learn good communication, teamwork, collaboration, and those are some great skills."
Hovestol completed an internship at Red Cross Hawaii near Diamond Head, and she hopes her great experience working there is something everyone can have the opportunity to have as well.
After the student intern panel was over, there was a chance for students to listen to an introduction from Diane Yang, who is the new internship coordinator on campus. In addition, companies who attended the event were able to talk about what types of internships they offer and the lines of work they are involved in.
"We got to chat with the businesses that came here that offer internships and tell us how their operations run, and it's not just summer internships they offer but all year round," said fourth-year Business Administration major Tyrone Rixey. "You are helping yourself to learn and also learn how businesses runs and where you can fit into that business."
After students checked into the event, they were given a paper that had categories relating to the student panelists, alumni, and external businesses. Each category required a signature from a person that represented a business, alumni, and student panelist to help students connect with different businesses and make connections for internship opportunities.
While students had the time to mingle and speak with companies about possible internship opportunities, there were also refreshments to enjoy.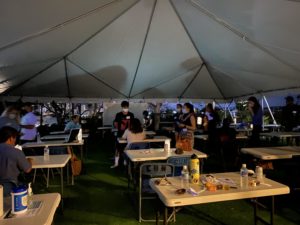 Oda, who was in charge of the event, said she wanted to host this workshop for students because based on her interactions with other students, they have never done an internship before or don't realize the importance of internships.
"I wanted this event to be a place where people could see what an internship is because people think you are supposed to just get a degree and get a job, but there is much more to college," she said. "I wanted to focus on internships because I know that's where students struggle and I know for some majors it's required."
Oda participated in an internship in June 2021 as a probation intern with the U.S. District Court in Honolulu where she was able to apply her knowledge from her criminal justice classes to the real world. She was responsible for helping probation officers write their criminal history summaries. Oda said that last year, she hosted a panel on Zoom that was more career-related such as understanding interviews and interview etiquette.
OSAL partnered up with Alumni Relations to host the event since Howland knows multiple external businesses that offer students internships all year long so students could have the chance to talk with them. Some businesses that participated in the event were American Red Cross, Hawaii Food Bank, Fairmount Hotels, Northwestern Mutual, Huntington Ingalls, Aloha Harvest, and Hawaii National Guard.
"It's one thing to matriculate and being in such a close environment as Chaminade, but when you're out and able to see how the world works, how it is to be professional and get challenged in professional ways to achieve things, it gives them a whole slew of experience to prepare them for their careers," Lum said. "One of my primary jobs is reconnecting with alumni to see how they would like to be reconnected back to the university whether it's time, talent, or treasure."
Lum said that as long as you put yourself out there and are willing to make connections with people by approaching them professionally, you'll figure out what you want to do to reach success. She also said that even if a student isn't ready now to begin an internship, because of this event, CUH students made long-term connections for the future.
The employer relations counselor on campus, Howland, who has also worked at UC Berkeley as the Internship Coordinator, said that internships help students learn more about themselves and what they enjoy doing.
"The event helped students who may be afraid to interact with companies as well as curious about how they would do that to get really good information on what they can do and what they can say and how to get in front of somebody," he said. "It's not necessarily just the job piece, but the more you get out during college and use what you're learning, the more you can figure out how you're gonna use it and what you like to do."