Chaminade Shoots For Hoops and Hot Dogs
On Monday, Chaminade students, faculty, and staff kicked off the week with a Hoops and Hot Dogs watch party hosted by OSAL (Office of Student Activities and Leadership) and Alumni Relations to virtually cheer on the Chaminade men's basketball team while it competed at the Maui Invitational in Las Vegas against the University of Oregon.
The event was held in the Ching Conference Center at Eiben Hall from 4 p.m. to 6 p.m. Attendees were welcomed with a Chaminade basketball shirt and Maui Invitational cap upon check-in. While the basketball game proceeded, there was food, a book signing, giveaways, and even a photo booth to enjoy. 
Although the annual Maui Invitational watch parties at Chaminade are typically focused on the student population, this year, alumni also had the chance to take part in cheering and rooting for the team. 
"I am part of the alumni council and an invite went out to all of the alumni at Chaminade to come and attend," said Elijah Abramo, a 2021 Business Administration Chaminade graduate. "I have not been to Maui Monday before, but I wish I had gone when I attended Chaminade."
Although Chaminade was forced to cancel the annual trip to Maui this year due to Covid-19 restrictions, Hoops and Hot Dogs provided students with an aspect of community and being able to cheer on an athletic team with friends and peers. Over 50 people attended the event compared to the 30 that signed up to watch.
"It's a good event and an alternative for the students who can't be there," said second-year Chemistry major Sean Lorenzo and Finance Budget Manager for OSAL. "At least we can support virtually because we (Chaminade) are really into the family aspect of the community."
Lorenzo said Chaminade takes pride in the success of other students.
According to OSAL's director, Joseph Granado, since the event was hosted in the Ching Conference Center this year, more people were able to attend without restrictions. 
"The Maui Invitational Game was only limited to 40 students and because of the cost of the ticket. This, being a free event, means that anyone could come," Granado said. 
OSAL is known for hosting activities related to the Maui Invitational such as sponsoring students to attend Maui Monday every year. The organization encourages student spirit and pride all around campus.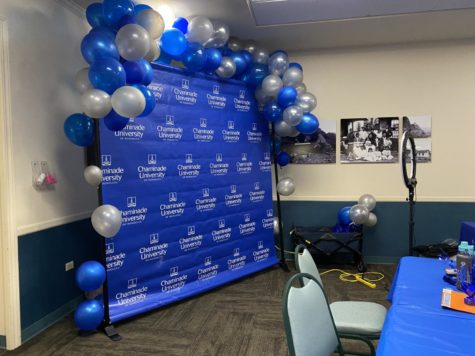 "One of our themes in OSAL is spirit, tradition, pride, so this is a good way to partner with athletics to promote Chaminade spirit," he said. "When I planned the Maui Monday trip a couple of years ago, we were playing the University of Kansas and our student section was way smaller, but we were much louder."
Granado also said that since everyone at CUH is in a close-knit community, everyone already knows each other and is comfortable with letting loose, yelling at the top of their lungs while cheering on the basketball team, and having a good time. 
For some Chaminade alumni, watching the game via live television reminded them of the time they attended the Maui Invitational in person for a whole day. 
"I went to Maui Monday in 2017 during my junior year and it was super fun," said Chaminade 2018 Psychology major graduate and CUH's current academic advisor for nursing and health professions Pono Riddle. "I am glad there are students here even though it's the end of the day. People are either trying to go to work or finishing class, but just the fact that they are here to support is huge."
Riddle said he remembers watching the team in Maui and all of the students cheering on the basketball team louder than the other fans even though CUH lost 83-56 to Notre Dame that year. Chaminade is a smaller university than most of the Division I schools it competes against in the Maui Invitational.
Students also had the option of entering into a raffle for giveaways that included bags stuffed with Chaminade gear.
As students and staff waited during halftime, Jack Danilewicz, a CUH alumnus and author of "The Greatest Upset Never Seen: Virginia, Chaminade, and the Game That Changed College Basketball," signed copies of his books to give to students who won the giveaways while chatting about his connection with the basketball team.
He was invited to attend the watch party event by the director of Alumni Relations on campus, Jeannie Lum to talk about his book and the significance of Chaminade Men's basketball team history.
Danilewicz, who is originally from Chicago, moved to Hawaii in 1991 and at the time, was covering a lot of college basketball. His inspiration for writing his book was it being the greatest underdog story of its time. In 1982, Chaminade beat Virginia, the top-ranked team in the country with the No. 1 pro prospect, 7-foot-4 Ralph Sampson, in the country. It was an upset victory that inspired the Maui Invitational. 
"It's the ultimate underdog story, not just in terms of the basketball wins that they had, but because a lot of the kids were struggling in life, and the coach too as he's told me, it was an awesome combination, said Danilewicz, who attended CUH from 1992-95 and was a Communication major. "It was a rare collection of personalities and talents that they had at Chaminade during that '82 to '85 period."
Chaminade men's basketball team lost to the University of Oregon 73-49 at this year's Maui Invitational in Las Vegas. 
For more updates on men's basketball and their next games of the season, check out the official athletics site of the Chaminade Silverswords.