History in the Making: Art Bubbles Teach About CUH
Sister Malia Wong, a religious professor at Chaminade, has developed a new project called Marianists & the Arts: A Sense of Spirit; A Sense of Place. This yearlong project incorporates "art bubbles," or art workshops, held throughout the fall and spring semesters of 2021-2022. Wong hopes the workshops will help the campus community gain a hands-on understanding of the history and creation of Chaminade University.
"How do you do a study? Do it through your hands. Do it through the arts," said Wong, the Marianists & the Arts creative director.
Dr. Genevieve Griffiths, a biology professor who recently took up ceramics, expressed her excitement to meet Yukio Ozaki, the host of the first Marianist & the Arts workshop. Ozaki taught ceramics at Chaminade for 34 years and came out of his retirement to host an art bubble through the eyes of his late friend and mentor Father Mackey.
"I'm in your space and touching your objects and all these objects are infused with your presence and so I just wanted to meet him," Griffiths said.
The first workshop began on Sept. 17 and focused on the life and spirit of Father Robert Mackey, SM., the first president of Chaminade. Students and teachers read fond memories of Father Mackey from Sister Claudia, his friend and associate. The group members visited Mackey's gravesite at Diamond Head Memorial Park and showcased their artworks at the last session.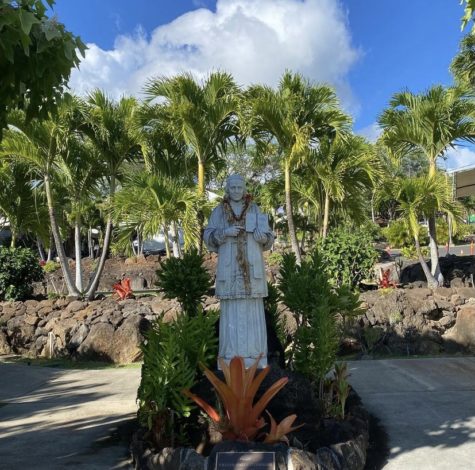 Each workshop is free and includes three sessions where faculty, staff, and students mix and participate in various artwork mediums such as ceramics, woodworking, and drawing. The sessions are designed in two parts: a study and creating session. The study session is where participants read journals, diaries, and/or newspaper articles about the Marianists. The creating session focuses on crafting a visual artwork that embodies a part of the Chaminade University story.
"A lot of people don't know what Chaminade's about," Wong said. "They think it's a nice campus and things, but then they ask who the statue [Father Chaminade] is down there. … This is the heart, … the arts area. I'm trying to revive a little bit of that."
Oct. 13 is the next workshop where Kumu Kahoali'i Keahi-Wood will highlight the life and spirit of Father Joseph Priestley, SM. This session is still available for registration.
The Society of Mary, or Marianists, was founded by William Joseph Chaminade during the French Revolution. He organized groups of men and women in Europe into communities that served others in the light of God.
The first Marianists arrived in Hawaiʻi in 1883 to staff and administer Saint Louis School. According to Saint Louis' ʻāina-based learning webpage, the Marianists purchased 204 acres from the Estate of Princess Bernice Pauahi Bishop for $62,000 in 1922. Today, this is known as the school's present site, Kalaepōhaku, or "the rocky promontory." The Society of Mary founded Saint Louis Junior College in 1955. Upon becoming a four-year institution, it would later be renamed Chaminade College in 1957.
By reflecting, engaging, and creating, colleagues have a chance to contribute their own artifacts to showcase around campus. In this way of learning about Chaminade's history, one has the opportunity to walk away with a more profound sense of spirit and place.
Registrations are still being accepted for various workshops this semester, including ʻŌlelo Hawaiʻi hosted by Kumu Keahi Renaud through the lens of Brother Oliver Aiu, SM.; Hawaiian plant materials hosted by Kumu Kahoali'i Keahi-Wood through the lens of Father Joseph Priestly, SM.; Woodwork hosted by Dale Fryxell through the lens of Father Stephan Tutas, SM.; and Visual artistry: drawing hosted by Meleanna Meyer through the lens of Queen Lili'uokalani.
For those interested in registering for a workshop, fill out this Google form to sign up.
Visit the Marianists & the Arts website for more information.