Maui Invitational Moves to Las Vegas Due to Covid-19 Restrictions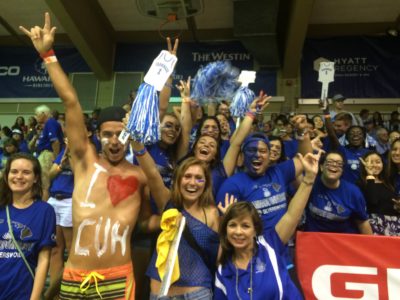 The Maui Jim Invitational, which Chaminade University has hosted since 1984, will relocate to Hawaii's ninth island, Las Vegas, this November due to Covid-19 restrictions in Hawaii. The event will be hosted at the Michelob ULTRA Arena at Mandalay Bay Resort which will run from Nov. 22-24.
The news was announced on ESPN on Friday, but many Chaminade students found out on Monday when the Office of Student Activities and Leadership sent out an email.
"I was quite disappointed because I was looking forward to going with my friends and experiencing it for the first time," said third-year Business Administration student Timothy Johnson, who added he was "bummed the trip was canceled."
According to Maui Now on Saturday, Tom Valdiserri, Executive Vice President of KemperLesnik, also known as the operator of the Maui Invitational, responded to the abrupt location change, "Maui is our tournament home, which is why we are disappointed that the current state Covid-19 restrictions will not allow us to host the Maui Jim Invitational," he said. "While we anxiously await our return to the island in 2022, we know that we were able to relocate the event safely and successfully last year in Asheville while maintaining the spirit of Maui, and we expect the same result this year in Las Vegas."
For Joseph Granado, the head of OSAL, the hardest part was breaking the news to students who wouldn't have another opportunity to go in the future, thus the Maui Invitational being an every-other-year event. Thirty-nine students had already signed up for Maui Monday, the trip to watch the Chaminade men's basketball team's first game of the Maui Invitational. 
"The one population I was sad to inform was the juniors and seniors who won't have an opportunity again because it happens every other year," said Granado, who said the tickets sold out in four days. "We had a lot of juniors and seniors that had already paid."
Third-year Environmental and Interior Design major, Montserrat Lanfranco was a bit disappointed about the venue change but understood the changes due to Covid-19.
"At first, I was a little sad to find out because I found out on Friday night," she said. "I didn't find out it was canceled, but I found out through ESPN that they had announced that Maui Invitational was going to be in Vegas. So I thought, Are we going to Vegas?"
CUH student, Peyton Oshiro, who is a third-year Business Administration major also heard about the venue change of the Maui Invitational through ESPN and said he didn't know how much the Maui Invitational meant to the university until the first time he went.
"I found out about the Maui Invitational through my dad because he's into sports," he said. "The Maui Invitational is a pretty big thing in college basketball so I didn't realize Chaminade was sponsoring that and they have been for a long time."
On the other hand, third-year Environmental Science major, Emily Ramirez had anticipated the cancelation of the trip all along. She said she knew that covid cases were getting worse in Hawaii, and it was only a matter of time before Chaminade would officially cancel the trip due to Covid-19 restrictions. 
"Just knowing how cases have been going, I work in Waikiki, it's the center of the tourism so I have been hearing many tourists are faking their vaccination cards, so I was a little worried," she said. "I was pretty neutral about it, I was like if we go, that's good, if not, that's alright too you know."
Just two years ago, students were sitting right next to each other cheering at the top of their lungs hyping CUH's basketball team at Lahaina Civic Center. When students were asked about their previous experience at Maui Invitational back in 2019, they had nothing but positive things to say and memories to reflect on. The Maui trip is known for hosting student activities throughout the entire day such as stopping by the beach, eating at a local restaurant, and even picking up some Krispy Kreme donuts on the way back to Oahu.
"We watched the basketball game and it was hyped up because everyone was wearing Chaminade gear and stickers on their faces,"Lanfranco said. "Joseph did a really good job at planning the whole day out for us."
"I remember us being in a little corner in the stadium just yelling out and representing Chaminade," Ramirez said.
"I enjoyed my first experience because there was a lot to do in Maui and the itinerary was pretty packed so we were always doing something fun," Oshiro said.
Granado said that traveling to Las Vegas wasn't even considered an option for Chaminade.
"Because the trip is only one day, it would have been hard to do a trip to Vegas because students would have already missed class on that Monday. It wasn't considered an option," he said.
Chaminade University students who signed up for the trip and made payments can expect to be refunded in one of two ways.
"Students that paid with a credit or debit card will be processed by Friday. If the students paid with either cash or check, they can pick up their refunds at the business office," he said. 
The Chaminade men's basketball team will play Oregon in Las Vegas on Monday, Nov. 22. The game will be televised on ESPNU.