Winter Break Sendoff For CUH Students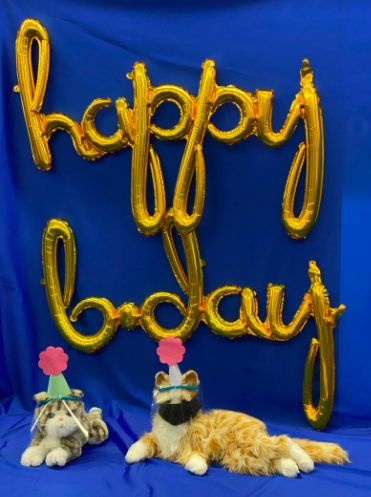 The Office of Advising and Career Development (ACD) will be hosting a winter break sendoff for students, this Friday.
The meaning of the event is to send the students off with warmth of support and love, said Haunani Saifoloi, the assistant of the director.
Danielle Masuda, director of the ACD, stated the theme of the event is a winter break sendoff and a birthday celebration for the office's stuffed animals cats, Chicken Nugget and Nightmare. Advising has stuffed animal cats in their office that always grab the attention of students and faculty.
The cats are ACD's office pets that bring emotional comfort to students. The office purchased two cats for The Wellness Workshop last academic year 2019. Various health and wellness programs come to Chaminade and encourage students, faculty, and staff to live a healthy lifestyle and learn the importance of self-care.
One of the programs had a companion pet cat robot. The cat has cat-like movements, sounds, real-feel fur, and purr technology, according to the company Joy For All. The cat provides realistic features of owning a cat while giving you a loving interaction that inspires sincere care.
"We saw how the students were reacting to the cats at the wellness workshop and thought we should get some for our office," Masuda said. "We all loved the meaning behind the cats and agreed we needed something to bring comfort to students. … We constantly have students coming in and out of the office. … The students seem to enjoy the cats and it's always a topic that's brought up."
Office Cat's Birthday and Sendoff will be located in Ching Hall 252 at the Office Advising and Career Development at Chaminade University. It's from 11 a.m. – 1 p.m. Snacks and swag will be provided. You can bring a friend or come solo.
A treat that will be proved is cookies from The Honolulu Cookie Company. The cookies will be individually wrapped. Masuda said she wants to make sure the office is diligent and takes extra precautions to ensure the students' safety as we are in a pandemic. This will be a 'pop-in' style like the Cake Pop event the office hosted for when students came back to campus.
"I just want students to know we are here for them and can support them through this stressful time of the year," Masuda said. "This is the end of the fall semester and everyone has a lot going on. … If only two people show up that's fine. This event is for students to know we are here and we understand what they are going through."
Advising aims for students to graduate on time, declare a major, seek experiential education opportunities, like study abroad and internships. The office wants to show students what's expected from them as well. The overall goal is to make sure the students are academically and career ready upon graduation. Advisors help new students make a smooth transition to the university and help connect students to academic opportunities and resources.
Advising's mission is to make your academic transition into Chaminade University as smooth as possible for all first-year and transfer students, as well as provide ongoing support to continuing undergraduate students.
"We really want students to know we are here for them and can support them," said Pono Riddle, internship coordinator of the Office of Advising & Career Development Department. "I hope the students of Chaminade will come back refreshed and ready to start another semester here at Chaminade."