Chaminade Celebrates First-Gen College Students
The national First-Generation College Celebration Day was on Nov. 8, marking the anniversary of the Higher Education Act of 1965, according to the Center for First-Generation Student Sucess.
This is Chaminade University's second year participating in the celebration. Due to the fact that Nov. 8 was on a Sunday, the Office of Advising decided to have a week full of events, from Nov. 9-13, for all students. Each day had events, online and in-person, related to the topic of the day, which were Trailblazer day, Post-BACC day, Socialize and Network day, and First-Gen Native Voices day.
"Last year was the first year that Chaminade participated with having a student panel," said Ariz Sanchez, an academic advisor at CUH. "This year we decided that it would be better to have a week full of events so that there could be more engagement around the campus, whether it be through an online or in-person event."
The events ranged from panels with students and alumni, create your own trail mix, and a painting night.  At the events, tables and chairs were set up to follow social distancing guidelines, and hand sanitizer was available for anyone who needed it.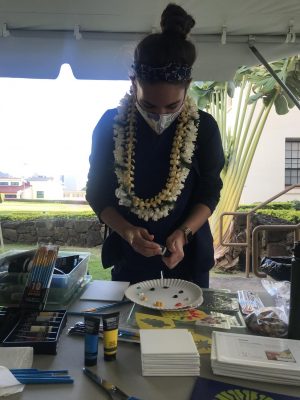 "Being able to go to events in person and talk to other people even if we have to be socially distanced is a blessing," said Jared Addington, a second-year Business major. "My favorite events throughout the week were where we got to create our own trail mix and the painting night. I think that having these events, especially right now, are much needed."
The in-person event that Sanchez said had one of the bigger turnouts was the Paint "Night" Meet and Greet on Thursday, Nov. 12, with around eight students attending. At this event, the meet and greet aspect was with some of the advisors on campus to get students more comfortable with reaching out to them.
"Attendance is always an issue for events in general," said Pono Riddle, internship coordinator. "Though we wanted more attendance, we're grateful for those who supported from behind the scenes and especially for those who came to the events."
Throughout the week there were panels that each served different purposes, led by first-generation students from Chaminade or graduates and members of the community. Some of the topics discussed were about first-generation native voices and how they are changing the narrative, being the first generation to pursue graduate education, and how to navigate through college as a first-generation student.
"Being that this was my first event like this it was refreshing and I think it went very well," Riddle said. "I don't remember there being any first-gen events when I was in my undergrad."
Learning from this year's event, Advising is hoping to continue participating in the national First-Generation College Celebration Day. Next year the Advising Office is planning on partnering with a club on campus to bring more exposure to both the event and the club.
"Overall the week went better than anyone could have planned for," Sanchez said. "Next year we hope that we will be able to do this again and maybe even have more in-person events if possible."