Chaminade Offers Annual Flu Shot
Before the start of Chaminade's annual Flu Clinic at 2:00 p.m. on Monday and Wednesday, pharmacist Scott Sumiea and his technician assistant from Long's Pharmacy Kaimuki were preparing vaccinations on Zubanero Lawn located on the side of T.C. Ching Hall. The students, faculty, and staff filled out a form upon their arrival and waited in anticipation for their turn to get stuck with a needle.
"Its actually my first time getting a flu shot but I figured I should at least get one," said Seini 'Unga, Residence Hall Director of Kieffer Hall & Waialae. "If it's offered for the students I might as well get mine. I'm not scared of the shot itself, but I am nervous about getting sick."
The head pharmacist, Sumiea was ready to make those doubtful in participating in this year's clinic at ease by offering some insight on why getting your flu shot is all the more important during this time of the COVID pandemic.
"Some people are hesitant about getting a vaccine because of potential after symptoms, although symptoms afterward are very rare, the most someone will experience is a sore spot where the needle was inserted," Sumiea said. "I suggest for everyone to get their flu shot this year. The reason is that potentially catching the flu while being an asymptomatic carrier of COVID can take symptoms over the edge and make it a whole lot worse."
This event was held by the student event director and president Melissa Dela Cruz. She works to coordinate with Long Drugs and CVS Pharmacy every year to help make flu shots accessible and easy for anyone affiliated with Chaminade University. By doing so she hopes everyone takes preventative measures to help protect themselves and others from getting sick.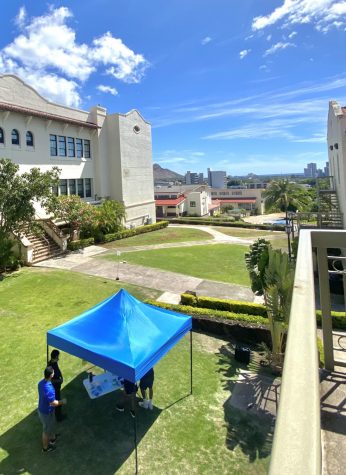 In an effort to practice social distancing, students, faculty, and staff stood six-feet apart from each other wearing their masks in a line that stretched from T.C. Ching Hall, across the lawn, to Henry Hall. To prevent overcrowding of participants, everyone was required to sign up and reserve a spot online and RSVP using the Flu Shot Clinic Form. Approximately 50 students showed up to get their vaccine on Wednesday, an increase from the 30 individuals who got their shots on Monday afternoon. This made the pharmacist and his technician work swiftly to administer flu shots at a rate of close to one person every three minutes. As 4:00 p.m. approached, the event slowly came to an end as OSAL cleaned up.
"The Flu Shot Clinic turned out even better than we expected, more people participated than previous years," said Chaminade Student Government Association (CSGA) President Edward-James Adachi. "OSAL is trying to look for another date to host another clinic. Since we're coordinating with CVS and Long's we are playing it out by ear."
Although this clinic takes place annually if you happened to miss out on this year's free flu shot event, make sure to check your emails to stay in the know about a potential future clinic later on within this school year. For more information or questions about the event, contact the Office of Student Activities & Leadership at [email protected].