Chaminade's 'We care packages' Come in Handy
Starting at 10:45 a.m. on Tuesday morning, 15 minutes before the event of Chaminade's "We care package" started, there was a long line of cars starting from the top of Clarence T.C. Ching Hall going all the way down the oval, to the entrance of the campus. The cars waiting in line were students practicing social distancing as were the faculty and staff workers with their masks and gloves on, ready to hand out the bags of food.
"Since were all recently isolated, this is the time to be a community," said Lisa Furuta, Vice President of communications and marketing. "We thought that this care package would extend to our students in the time when typically you're a little bit more stressed, either from school or from loved ones and worrying about them. We can't do much on campus so this is our way of connecting with students."
This event was held by the dean of students, Allison Jerome. She wanted to make this event in relation to "Crunch Brunch," which is for one night during finals week, students can eat for free for dinner and can have unlimited amount of food while in the cafeteria.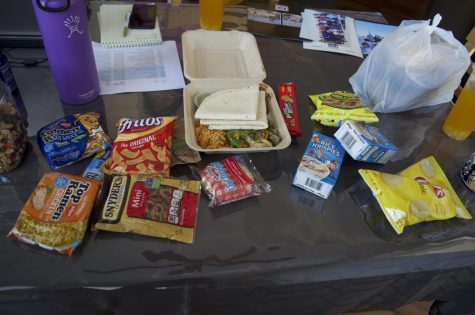 The care package consisted of one meal and snacks. The bag had a Cinco Di Mayo themed meal with a fajita (which consisted of sautéed beef, cilantro, onions and bell peppers) with a side of re-fried beans, Spanish rice and guacamole. The other foods that was in the bag were a hot dog, brownie, slice of cake, Rice Krispies, banana, two apples, two oranges, variety of bags of chips, a bag of pretzels, Nutter Butter, two packages of instant noodle and an Uncrustable sandwich.
"Honestly I was not expecting that much food," said Chaminade student Dominique Marshall. "I thought that they were just gonna give us a bunch of can goods and snacks. I came into town around 10:30, waited 20 mins to get the food and i was on my way. It was interesting to come back to campus and see it so empty and seeing all of the people we see around campus normally, wearing masks and gloves."
Since majority of the students had left, Chaminade decided to team up with Aramark to make this event happen. Aramark cooked up the meals and sent it on their way to the top of Ching Hall.
For the first 20 minutes of the event, the faculty and staff workers were working very hard to get everyone their bags of food and on their way. The line of cars moved and cleared out within a 20-minute window and the bags of food were still coming out of the cafeteria consistently. By 12:00p.m, the line of cars died down, but the faculty and staff still had about 30 bags of food ready to go.
"It was a day of social distancing," said Aulani Austin Kaanoi, Vice President of Finance and Facilities. "Everyone was wearing gloves and masks following protocol as to us holding the event. Only day-undergraduate, online and graduate students got the email for this event."
This event was to show that in this hard time of dealing with a pandemic, the university cares for their students and wants to show some appreciation to the Chaminade community.