Student Workers Unsettled for Summer
The rising threat of coronavirus in the middle of the spring semester had caused the plans of many Chaminade University students to change at the last minute. For two particular student workers, however, they find themselves stuck on Oahu looking to make the best of their situations.
On March 16, CUH President Lynn Babington announced through email that all remaining face-to-face classes for the 2020 Spring term will be moved online due to the coronavirus outbreak. After the announcement, students and their families arranged flights to bring them back home during this national crisis. Two students, however, were unable to do the same and have since continued either working for the university or finding ways to help ease the situation for others in their own time. Those two students, both from American Samoa, are third-year psychology major Timothy Dunstan and third-year accounting major Jemima "Sia" Nafatali.
"It is hard especially now being away from family during this time," Dunstan, 22, said. "I think that just comes to having an awareness of everything going on and that everything changes so suddenly and so quickly. It's unpredictable."
During breaks in the school year, both students would visit their families back home. That tradition might cease this summer with the island nation having closed its borders to non-essential travel since March 23. Until further notice, the two continue to keep themselves busy.
Before being laid off on March 31, Dunstan, who commutes to school, was one of the few remaining student workers at the Silversword Cafe. Before leaving, Dunstan noted the cafeteria's heightened caution toward bacteria spread with employees being required to wear masks and to clean tables and counters constantly. The salad bar was moved to the kitchen and students could only order take-out. Overtime, the number of students coming into the cafeteria lessened causing the facility to prioritize its hours toward its full-time non-student employees.
Additional changes include the cafeteria's opening hours, which currently opens only during its lunch period (11 a.m. – 2 p.m.) on Mondays, Wednesdays, and Fridays. To help students who are still living on campus get through the rest of the semester, Chaminade officials like dean of students Allison Jerome sometimes donates snacks, face masks, and tide pods through the school's Residence Life office.
Dunstan currently spends his time volunteering from home for the American Red Cross. Until American Samoa reopens its borders, Dunstan plans to remain on Oahu. However, with his status as an F-1 international student, money will be scarce due to the lack of jobs available to someone with his title.
"The income from work would help me today by buying food for the house or anything that I need," he said. "And now I'm having that realization that [the coronavirus] is a serious thing, and we'll be seeing the impacts of this for many years to come."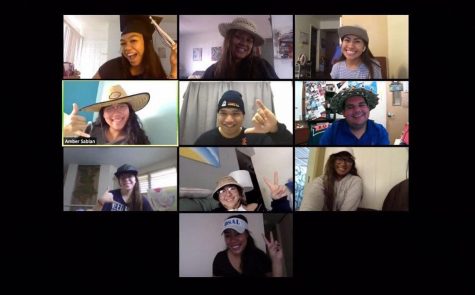 Natafali, on the other hand, was able to keep her two jobs on campus: as a Hale Lokelani residential assistant and an Office of Student Activities and Leadership student coordinator. Currently, she watches over a dorm, which used to hold 78 freshmen at the start of the Spring semester, that now houses eight.
Natafali also notes the precautions the school is taking with its students and its facilities. Students can still use the computers at the Sullivan Library as long as they enter the building wearing a mask.
Though coronavirus protocols discourage physical interaction, Nafatali finds ways as an RA and student coordinator to connect with students and peers virtually through online events that she and her coworkers would have students participate in.
While she is able to provide for herself for the time being, she is unsure if she'll fare well after May 12, when all RAs must vacate the halls. If she is unable to fly back to her family in American Samoa, she hopes to stay with her closest relatives in Arizona.
"I'm an only child," the 21-year-old said. "So the fact that I can't come home, [my parents] are worried about it because there's no one to take care of me here on island. … We're all nervous because I've never been alone like this before so it's kind of scary."