Coronavirus and Unemployment
With so many people laid off from their jobs whether it being furloughed or let go, all these people have to deal with another problem called unemployment. Since March 1st, the unemployment rate skyrocketed to around 250,000 people, according to the Star-Advertiser.
"My last day of work was probably in the middle of March and I still haven't gotten paid for unemployment yet," said Micah Leong, 23, bus boy at The Eating House in Waikiki. "I filed for unemployment right after the boss man announced that we were shutting down for the time being. The scary thing is that he told us he doesn't know when we're going to start back up again." 
Filing for unemployment has its ups and downs. Having to go through pages of filling out applications and putting so much information down can be stressful on top of the fact that you had just been laid off from this pandemic. Another concern is for the younger generation that are still in college and have no income for student loans and other bills that they have to pay. But the up side to it, is at least we get paid to cover our bills and other payments we have coming in every month.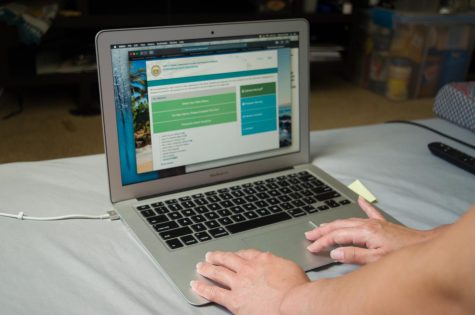 "It sucks you know?" said Jayden Tamaye, 23, server at The Eating House in Waikiki. "I live on my own, working two restaurant jobs to pay for rent, car insurance and other things that i need steady money for. With this shutdown of restaurants going on in the world, I can only say that I feel kind of helpless and scared. This unemployment thing isn't gonna happen over night. I hope my landlord understands in these desperate times." 
Tamaye is only one of many "non-essential" workers that are worried and trying to get unemployment. While filing for unemployment, you don't automatically get a direct deposit. You have to file week by week in order to consistently have a check deposited into your account. The process of filing for unemployment is a journey that some people don't have the patience or financial support for. Tamaye is a 23-year-old that live on his own and has bills of his own to keep up with. He still hasn't gotten any checks and he's realizing that he might have to move out in the near future if this unemployment situation doesn't have a solution. 
Unemployment is a way for people to have an income of money while they're in between jobs. In this case, most people are laid off due to coronavirus. 
Scott Murakami is the department's director for The State Department of Labor and Industrial Relations. According to Hawaiinewsnow.com, Murakami said in an interview that "having about a third of the economy to stop working, hurts." The department wasn't prepared for a situation like this that involved social distancing according to Hawaiinewsnow. 
The first couple of weeks after the shut down, people couldn't even sign onto the website because it crashed from too many people trying to sign on at once. Murakami made a solution for the website by putting a bigger gateway access for the website to handle more people at once and hiring more people to answer phone lines and work on the website itself. 
"The first week was kind of hard," said Kaylee Hashimoto, 28, server at Karai Crab. "I tried to sign on everyday for the whole week and nothing happened because everyone was trying to do the same. I called the number it suggested and nobody answered. But when they did, they told me to call another island's number because this was the wrong department that I was calling."