The Hunger Games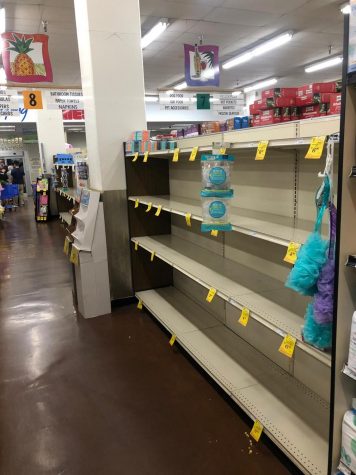 The bare shelves of the local grocery stores have laid witness to the mass amounts of panic buying in the last month in Honolulu. Items like pasta, canned goods, disinfecting cleaners, and toilet paper have been among the hardest to find. And the lack of some of those basic items has stunned some local shoppers.
"I mean, what do we do?" said 32-year-old Danny Steele. "If I had a family to feed in Hawaii, with the cost of living and isolation of our home, I'd go crazy too. I just need to make sure I have essentials in the house but it's hard to do when everyone stocks up for the next three years (laughs)."
On my weekly shop to Times, which is the closest supermarket to Chaminade University, I encountered many shortages in the store. I noticed that all rice packets, pasta, canned foods, hygienic essentials were all gone leaving the shelves bone dry. Walking through the isles is depressing, it's like a sequel of "I am Legend" expecting to leave with bags of food for the week but leaving with one bag of everything you didn't want, but I am having to get it anyway because that is what's left. During my disappointing grocery shop, I managed to talk to a few people on their experience and outlook on all of this.
"I honestly am in shock on how the system has handled things," said surf teacher Char Chiren, a 34-year-old mother with three kids between the ages 3 and 6. "I come to get food for my kids and make sure we are OK for the week, and it is hard because everyone is too greedy and doesn't consider others."
There are growing restrictions on our lives with stay-at-home orders, except for essential activities. But also the stores and supermarkets are adding restrictions to their businesses by shortening hours that they are open, having special hours for healthcare workers and the elderly, and benefits for those on the front line of this crisis. And what all this means is that there has been a greater demand for people cooking and eating at home. Because restaurants are closed, and so the usual go-out eaters now are stuck at home figuring out how to cook for themselves whilst saving enough money and food. Therefore, in weeks, it means that the demand for food has exponentially risen and supermarkets are finding it hard to supply the demand.
Local supermarket cashier at Walmart Neema Namdar, who also is a student at Hawaii Pacific University, said that it is really getting difficult to manage.
"It's wild out here now," Namdar said. "I mean I have not been working here long but watching people throughout the day run in here and walk out with five to six cases of eggs is unbelievable."