Restaurant Workers Deal With 'Scary' Changes
On March 14, Karai Crab and many other restaurants closed down due to coronavirus. Although some restaurants converted to takeout only, it still hasn't been enough to keep in business.
Gov. Ige announced that "non-essential" jobs will be suspended from work for at least through the month of April. Since the beginning of March, restaurants have been figuring out a way to stay in business while not having their restaurant open for seating. One way of providing is takeout, but the owner of Karai Crab said otherwise.
"Yeah everyone is doing takeout, but really it's all about what they can afford in these times," said Garet Kamei, 47, owner of Karai Crab. "If people can't work, then they have no income, which means they can't be spending money carelessly on crab or steak. So the cheap restaurants will be fine, as for us, I don't know how long we will last for takeout."
With the mandatory suspension of non-essential jobs, a lot of workers are applying for unemployment benefits and many employees wait in anxiety to get it.  
"I have been trying all week to get onto the website but it always crashes or it's just too busy to consume all these workers at once," said Micah Leong, 23, a busboy at Eating House in the International Marketplace in Waikiki. "It's hard not having income and having school loans, rent and other bills creeping up on my bank account during this time. I think they should suspend bills until we can work again."
During this time, the streets of Waikiki look nearly abandoned. Driving through the strip on Kalakaua Avenue feels like a ghost town of what was once a tourism hot spot. Not only are restaurants temporarily closed, but also hotels, retail stores and many other jobs that the tourism industry thrives on here on Oahu. Waikiki has been emptied of its tourists as several hotels like Hale Koa, Aqua Bamboo and others have temporarily closed and a 14-day quarantine is now required of all people who arrive to the island of Oahu, which has severely made a cut in the number of travelers.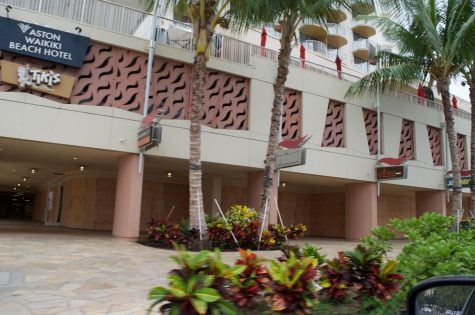 "As of March 19, I was laid off and every guest in the hotel had to check out the next day by 12 p.m. no matter the circumstances," said Jase Furuya, 24, a bell boy at The Aqua Hotel. "It's actually kind of scary seeing Waikiki so empty and deserted, I never would have thought that I would live to see the day it would be like this."
Other than temporarily closing of restaurants and being laid off, some of the restaurant industry workers are looking toward the positive side of things of this pandemic.
"I mean, yeah we're laid off for a while, but I think it's a blessing in disguise" said Kaylee Hashimoto, 28, a server at Karai Crab. "It just so happens that my family is in the process of moving houses, and I can help them with the packing and moving. It keeps me busy and it's less stressful. I have to worry about other than school and work piling up on top of that."
This virus is putting a pause not only in the United States but on the whole world. With isolation of social interaction, people are worried about their bank accounts and even more worried about when they can go back to work.
"It's nice to have some time off of work," said Jayden Tamaye, 23, a server at Eating House. "But not knowing how long we will be out of work is even more scary than getting the virus itself. How am I going to pay for the things to prevent me from getting the virus when I don't have enough money to buy it or even find it with all these hoarders. I swear this virus brings out the worst in people and you can really see how selfish and brutal the world is."