Students Gather at Micronesian Youth Summit
Bursts of cheer and laughter caused tremors through campus grounds as hundreds gather to celebrate Micronesian culture and the potential of its youth in Hawaii.
We Are Oceania held its annual Micronesian Youth Summit for Oahu's primary and secondary students at the University of Hawaii at Manoa Campus Center Ballroom Saturday. The gathering witnessed more than 500 participants, all consisting of students and staff from various schools as well as prominent figures who advocate for diversity and youth empowerment. Among those present were around 30 college students (six from Chaminade University's Micronesian Club) who spent the day ensuring that the program was as memorable as possible for the attendees.
"I think this kind of event is really important to me," said Shota Shigeta, who is a Chaminade freshman from Pohnpei, Micronesia. "It really brings all Micronesians from different islands and different backgrounds together and having them participate and having fun and just enjoying each other's company."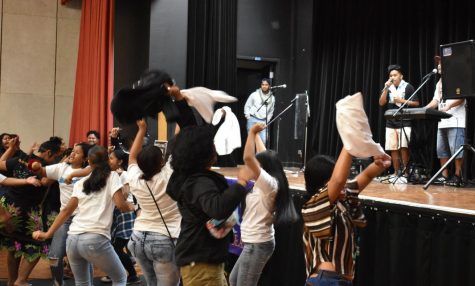 Shigeta, along with fellow Chaminade freshman Kobe Ngirailemsang who is from Palau, performed a contemporary dance with students from UH Manoa, Kapiolani Community College, and Kaimuki High School. The two saw the event as an opportunity to showcase their cultural pride while connecting with students who share a similar passion toward their own heritage.
One student who made clear his passion for his culture to those in attendance was Farriginton High School student Ben Setik who performed a traditional Chuukese stick dance joined by primary Chuukese students.
In addition to the performances by both volunteers and students from Roosevelt High School and Waipahu High School, attendees were treated to a number of speeches by several public speakers. There to show support for the Micronesian youth were figures such as Hawaii Department of Education superintendent Christina Kishimoto and retired command sergeant major from Satawal, Yap Thomas Raffipy. However, the speaker who effortlessly held crowd's attention was teenage actor Ethan Wacker who played Bernie in Disney's 2016 sitcom "Bizaardvark."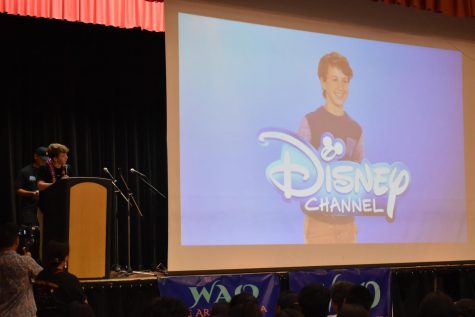 Wacker, who lives in Honolulu, began his journey to stardom at 11 years old when answering to a radio ad asking listeners if they want to become a Disney star. Since then, the young actor would endure "50-hour work weeks," which resulted in his launch toward an acting career. He ended his story saying that with a good work ethic, anyone in the crowd can succeed as well.
Throughout the program, speakers and college students made sure to emphasize that the youth in attendance, despite any financial or social limitations, can obtain a better lifestyle for both themselves and their families. During lunch, booths — operated by representatives from schools like UH Manoa and KCC and organizations such as American Cancer Society and Hawaii Office of Youth Services — populated the back of the ballroom educating wandering students about the positions and opportunities obtainable in each area.
An opportunity that was first announced at the summit was the Dr. Joakim Peter Memorial Scholarship in honor of WAO co-founder and Micronesia rights activist Joakim "Jojo" Peter who died last year. Since his sophomore year at Xavier High School, a private school in Chuuk, Peter spent his life in a wheelchair battling with numerous health issues. Despite that, he was able to acquire two masters and a doctorate degree at UH Manoa by 2011.
WAO started the scholarship to support students who share the same drive to strengthen Micronesian communities as Peter did.
"[Peter] is someone you can not say no to," said Joanna Jacob, who Peter treated as his daughter though she was his niece. "Don't believe that anything is impossible, because I believe that God is out there looking down on us. He can do the impossible, you just have to put in the work. … My uncle is an example."