Ho'oulu Scholarship A 'Blessing' For Recipients
For Hoano Rosario, receiving the Hoʻoulu scholarship was a wish come true. In 2017, he got a phone call within the week he sent in his application and found out he was a recipient. Rosario was shocked and filled with gratitude, he said. He and his family celebrated later on that day with a dinner.  
"Achieving this scholarship was a blessing," said Rosario, a senior Biology major who was part of the second group of Hoʻoulu Scholars. "I suggest everyone apply even if they are only thinking about maybe majoring in science. Graduating without debt is a dream, and this scholarship can make that happen."
Hoʻoulu, with an application deadline of March 16, is a scholarship funded by Kamehameha Schools and Chaminade University. The vision of the scholarship is to train a new generation of Hawaiian scientists, health practitioners, forensic specialists, environmental professionals and business leaders who are equally grounded in science and culture. They seek promising young scientists and who are ready to lead the charge for a healthy, prosperous, just, and sustainable lāhui of the future.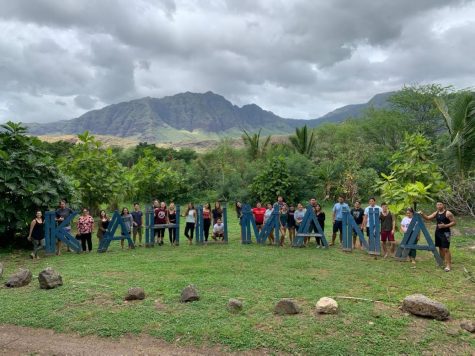 The scholarship – created in 2015 – provides full tuition assistance for four years, academic support services to promote on-time graduation, paid internships for professional development, financial support for career development activities such as MCAT and GRE preparation, and consideration for partial housing subsidy for on- or off-campus housing for neighbor island or rural Oʻahu students. 
The program has certain eligible majors of study: Bachelor of Science degrees (BS) in Biology; Biochemistry; Chemistry; Data Science, Analytics and Visualization; Environmental Sciences; Environmental Studies; Forensic Sciences; or Nursing.
Applicants must be of Native Hawaiian ancestry and a first-year, transfer student or continuing student. Students must be majoring in the qualifying programs stated and have an SAT score of 1,000 or ACT composite score of 19 with a 2.50 cumulative GPA. This scholarship gives preference to applicants of Native Hawaiian ancestry to the extent permitted by law. 
Hoʻoulu is run by Director Dr. Helen Turner and the Academic Navigator's Dr. Chrystie Naeole, Dr. Jolene Cogbill, and Kahoaliʻi Keahi-Wood. They are in charge of having weekly contact with students, providing support services like tutoring, life coaching, and offering internships and job opportunities. They help their students achieve in school and grow into responsible adults.
When Dr. Turner reached out to Kamehameha Schools in 2015 to create this scholarship to give opportunities to Hawaiian students. Chaminade and Kamehameha are national agencies involved in promoting STEM education (such as the National Science Foundation) that have recognized that low-income students and students who are Native Hawaiian have lower success rates in STEM degrees. This is a result of socioeconomic factors and is not related to the talent and creativity of the students, Turner said.
They decided that it was important to try and break down some of the financial barriers to being successful in STEM so that the students' inherent passion and aptitude. Chaminade and Kamehameha had a goal to ask whether a strong connection to community and culture would also enhance success rates in STEM – and so the program was built to have a strong emphasis on being culturally sustaining.
"I'm incredibly proud and grateful to the Ho'oulu Scholars and the faculty who support and mentor them," Turner said. "Collectively they are moving the needle on STEM success, and their voices are going to be important in securing a healthy, sustainable, prosperous and fair Hawaiʻi for the future."