Cosplayers Unite at Amazing Comic Con Aloha
Though the possibility of seeing both the fictional characters the Mandalorian and Harley Quinn in a canonical on-screen crossover seems unlikely, Oahu residents were able to see those characters, as well as many others from various universes, interact with each other within a few feet away from them through cosplay.
The Amazing Comic Con Aloha had its annual celebration of western and eastern pop culture at the Hawaii Convention Center from Friday through Sunday. The attendees were treated to around 50 booths selling items such as artwork, clothing, and food inspired by popular shows, movies, and video games, along with a number of panels featuring actors and comic book artists. One of the biggest attractions for some con goers, however, were the other con goers who cosplayed, or dressed, from head to toe as their favorite fictional characters.
Jonathan Caspillo, who has been cosplaying in conventions since 2013, arrived at this year's gathering dressed up as the superhero All Might from Shonen Jump's "My Hero Academia."
"I just find that it's a fun-filled experience," he said. "When you embody the character, it just feels so right especially when you meet new people who share that same passion for their favorite stuff and show that through how they look."
The show floor witnessed costumes made up from material from a wide range of sources. Some attendees donned synthetic fur while others wore full body suits of latex. For computer science expert Keith Takeda, he decided to show up to the convention dressed up as an arcade machine with a functioning monitor and control pad held together with PVC pipes. 
Complicated displays of one's fandom, whether well-known or obscure, is common throughout media-focused conventions. The Amazing Comic Con Aloha provided an amateur cosplayer who goes by his stage name Crystal the opportunity to express his love for Chinese video game "Azur Lane" by going as one of the game's female characters Takao.
"A lot of people, I would say, are afraid to cosplay because they might worry about what others will say if they do it," he said. "You just got to overcome it. I have."
While cosplayers spent the day showcasing their costumes to the public, casual con goers of all ages roamed the halls admiring the intricate outfits.
"Everyone [at the convention] is kind of a little bit different," said Ian Castillo, who is a second-year psychology major at Chaminade University. "We got extroverts and introverts and whatnot. It's just very interesting seeing everyone get together like this."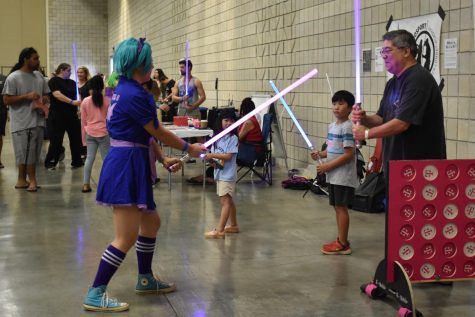 The three-day celebration held many events that aimed to encourage visitor interaction and participation. During the Saturday afternoon, convention staff called attendees to the stage to battle each other in the Nintendo fighting game "Super Smash Bros. Ultimate." Later into the night, cosplayers received the opportunity to compete against each other in a costume contest where the winner left with a trophy.
"Honestly, even if you think you're not a nerd, come and try it at least once," said Castillo. "The atmosphere is interesting and the people here are usually friendly. It's an experience you won't get from anywhere else."