Latinx Club Returns to CUH With Salsa Night
The Latinx Club danced its way back into the heart of Chaminade University by hosting its first event of the school year, Salsa Night, which was held on Valentine's Day 2020.
Here at Chaminade University, the Latinx Club has been dormant since the 1990s. The club was revived this academic year when a first-year Chaminade student, Katherine Gonzalez, decided to take all the necessary steps to change that. Gonzalez, along with some friends, took their idea to the university during the Fall semester of 2019, got others to sign up and instantly became part of Chaminade's student life.
Salsa Night was a unique event. The goal was to bring Latino people back to their roots and share their heritage with others around campus. Salsa dancing is a big part of the Latino culture and that is what the club members wanted everyone to embrace. 
At the event, as you walked in you were given a Spanish picture card. You and another person had to compare cards and if it had a matching picture you became partners. In the Loo Center, a salsa dancing video was projected for everyone to follow along to.
"Teaching myself and trying to follow my partner was interesting," said Matthew Respall, 19-year-old. "I don't know how to salsa so I was a little scared but it ended up being really fun. Also, the salsa and chips are the bomb."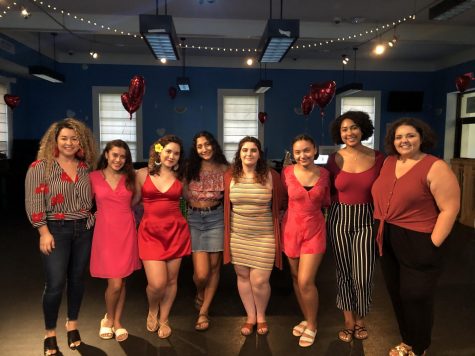 Along with salsa dancing, pizza, drinks, chips, and salsa were offered. There was also a festive photo booth for guests to take pictures in. More than 15 people showed up, from students to faculty and staff, it was an event to remember.
"This is awesome," said Jon Dalmacio, first-year Chaminade student. "There should be more club events like this where we can learn about the different cultures we have here at Chaminade. Really getting to experience the culture, with a hands-on activity, brings you in more and it's exciting."
The Latinx Club's mission is to introduce others to their unified Latin culture, while also celebrating the individual ethnicities and traditions that make up the larger Latino community. Through cultural events and outreach, it will encourage the exploration of a shared identity as Latinxs and to contribute to the diversity and inclusivity of the Chaminade ohana. The Latinx Club welcomes all Chaminade students, regardless of race or ethnicity.
"It's a pretty good turn out for our first event," said Katherine Gonzalez, president of Latinx Club, first-year Chaminade student. "It makes me happy to see everyone smiling and laughing. Honestly, all I wanted was for people to enjoy themselves, socialize, and to dance a little. Everyone got a little taste of who we are and what's to come."
For future events, the Latinx Club plans to do beach clean-ups with other clubs at Chaminade and participate in Extravaganza. It also wants to become involved with The Pulsera Project.  The Pulsera Project buys hand-woven pulseras bracelets from Central American artists and then partners with student groups to sell them through U.S. schools. With the money raised from pulsera sales, the project will fund many programs that empower people through secondary education, university scholarships, housing programs, healthcare, and more.  The Latinx Club is in hopes to make a mark in the Chaminade community by serving others.