CUH Students Respond To Trump Impeachment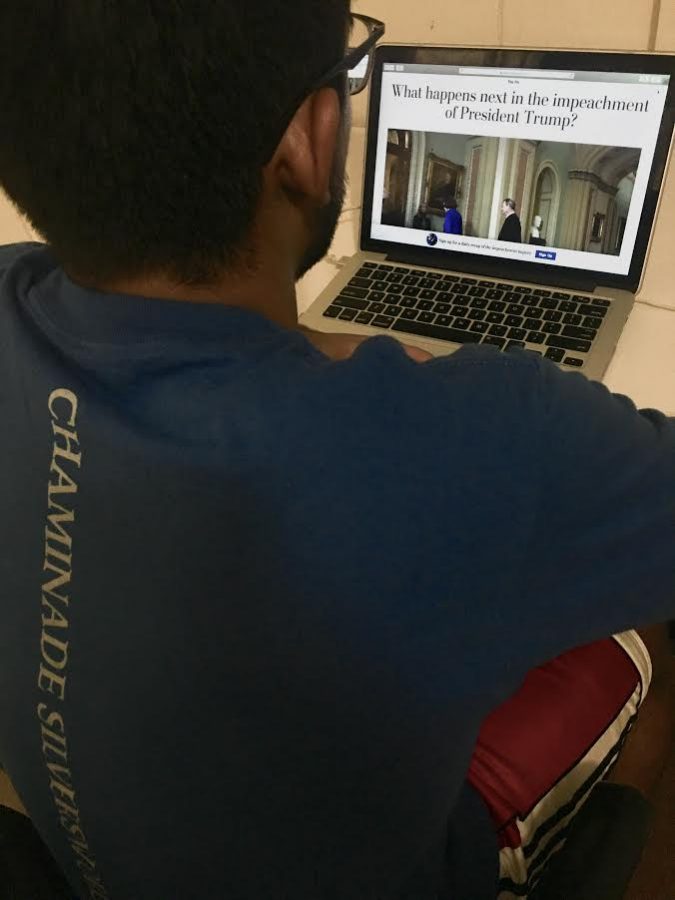 On Dec. 18, 2019, the House of Representatives approved articles of impeachment on charges of abuse of power and obstruction of Congress against the 45th president of the United States, Donald Trump. As the impeachment process continues to play out, now in the Senate, people all over the world, especially in the U.S., are waiting to hear the outcome. Some Chaminade students have been paying attention to the proceedings as well. 
"I think it is right and I think he is guilty," said Quina Flores, a sophomore from Saipan majoring in International Studies. "I think him being impeached should be a real eye-opener to everybody who did vote for him."
Flores said she recognizes the importance of voting and wishes that everyone, especially her generation, would make use of this right. She said she sees how detrimental an unfit president can be and hopes that those who vote take it seriously and do sufficient research on the candidates. In doing so, she said, the country can avoid electing presidents who are "unorganized and sloppy." 
Flores recalled a situation that is occurring back home where the governor, Ralph Torres, is being investigated for allegations of public corruption, fraud, waste and abuse of public funds. She said she finds it absurd that people like Torres and Trump (whose Taj Mahal, Trump Plaza, and Trump castle casinos filed for bankruptcy protection in 1991, along with the Plaza Hotel he owned in 1992) were voted into roles with such power in the first place, given the choices they make.
Kara Grace Joves is a sophomore from Mountain View, Calif., majoring in Forensic Science who also sees Trump as an unfit president and hopes that he gets removed from office. One of her biggest reasons for disliking him is his disrespect toward women and minorities. She said she feels unsafe knowing that the men of our country are being led by someone who teaches that it is okay to objectify women. Joves said she feels as though the leader of our country should, at the very least, treat all genders and races with respect. She is appalled that the country has let a man into office who thinks it is okay to inappropriately grab women without their consent (as he said in the infamous 2005 "Access Hollywood" video) or act in ways that justify racism (for example, calling U.S. Senator Elizabeth Warren Pocahontas on Twitter).
On the other hand, Reilly Minigutti, a junior in Criminal Justice from Dallas, Texas, stays away from the news, as he feels it is full of negativity. He is confused by politics and therefore knows as much about the impeachment as he has seen on Twitter. Minigutti said he will most likely steer clear of voting in the November presidential election because he thinks his vote is insignificant. He is also annoyed by the idea that people know who will win because the campaigns are basically a popularity contest.
Rocco Deangelo is a freshman from Mebane, N.C., studying Biology who thinks that we need to get on with the impeachment process and stop worrying about Trump since he will be out of office soon. At first, Deangelo was all for getting Trump out of office, but now he just wants the impeachment to be over with because he is tired of the tension. He also thinks the process is flawed and that there should be a better way to impeach a president. That being said, Deangelo recognizes that he is impatient and realizes that many of the citizens of the U.S. are as well. 
After about a month and a half of political maneuvering, testifying and voting, the final vote on the outcome of Trump's impeachment in the Senate is set to take place on Wednesday, Feb. 5.
Dominic Coffey, a junior from Huntington Beach, Calif. studying Criminal Justice, argued that Trump has certainly acted in ways that constitute impeachment. But he finds that choosing sides and finger-pointing are aspects of the process that are unnecessary and cause unwanted tension. Coffey said that whatever the outcome will be, those who wish for Trump to be removed from office could potentially get what they want, seeing that his term is near its end and a new president could be elected.
As for the election on Nov. 3, Coffey stressed the importance of researching the 2020 candidates for the sake of all citizens. He said that people should refrain from voting for someone who only benefits one party or one group of people. Rather, people should vote for the candidate who intends to serve as many as possible.
"If you're a person who doesn't care about politics, that must mean that the laws and everything that's going on in politics doesn't affect you in any way," Coffey said. "Me being a straight, white guy, I'm not really persecuted against or there's nothing enacted in law that's against me, unlike a lot of other people."