High Schoolers Peek Into CUH Life
If one wanted to absorb a year's worth of college experiences in one afternoon, Chaminade University dedicated a day to serve that purpose.
Chaminade held its very first Preview Day for Hawaii high school students last Saturday. The five-hour event provided an insight of how campus life would look like for students leaning toward Chaminade as their college of choice. With the university streets filled with music and cheers, many of the 149 high school students who attended Preview Day left the school with strong impressions.
Ben, a 17-year-old senior from Farrington High School, remarked on how visiting the campus solidified his decision toward studying Nursing at Chaminade after he graduates in May.
"For Chaminade, I'm definitely more confident about coming here," he said. "I was a little bit worried about the programs because I heard that [the Nursing program] was hard, but being here helped me get over the nerves."
Available to visitors were a line of rooms showcasing various academic sources available to Chaminade students. Some set pieces that high school students were able to see included a filming session, which had them standing in between a film camera and green screen, in Eiben Hall and a crafted crime scene complete with yellow markers and crime scene tape on the Henry Hall courtyard.
Throughout the university's middle road, booths stood shoulder-to-shoulder ready to inform high school students about the numerous student-run clubs and organizations that populate the campus. These stands were operated by Chaminade student volunteers, which led to in-depth interactions between the university's students and its guests. A common topic discussed were the opportunities present for incoming Chaminade students.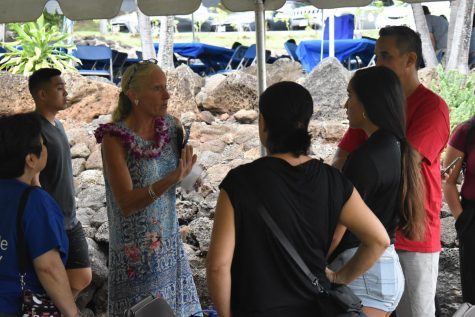 A 17-year-old senior from Ke Kula 'O Nāwahīokalani'ōpuʻu, a Hawaiian medium education school in Keaau, grew interest in Chaminade after hearing about the Ho'olu Scholarship Program. This scholarship provides future Hawaiian scientists the opportunity to study at Chaminade without paying for tuition among other benefits.
"It would be a big deal for me and my family if I'm able to get the scholarship," she said. "That's why we came here. I want to know what exactly I'm getting into."
To the pleasure of those who organized the event, multiple high school students and their parents were engaged with the presentations that the day had to offer. Crystal Johnston, the assistant director of admissions and leading organizer of Preview Day, spent months off and on the island making sure that everything was prepared for this event. Once the day came, she and her team were relieved and elated with the results.
"It's exciting for sure," Johnston said. "I think for me, it's more exciting to see, on the Chaminade side, everyone really coming together. … To see everyone cheerfully coming together, it makes me really love this school."
Chaminade is looking to make Preview Day an annual event, according to Johnston. Showing the community what campus life is like is one of the school's top priorities.
"Chaminade is really big on focusing on that 'Ohana feel in not just in our campus but our local community," Johnston said. "Whether it's our service learning, our classrooms, or our outreach programs, we bring a lot as a school and also as a community."