'Last Mass' to be Bro. Gary's Last Production at the Loo
Bro. Gary Morris has worked at Chaminade for 17 years, and he has directed 32 productions in his time here.
But "The Last Mass at St. Casimir's," this fall's show, will be his last in the Loo Theatre.
"Well it's been a good ride," Morris said. "I've enjoyed it, I've enjoyed working with young people in theater. I don't have any regrets with what I've done."
"The Last Mass at St. Casimir's," by Tom Dudzick, will premiere Friday at 7 p.m. in the Loo Theatre.
Bro. Gary is also a CUH performing arts professor who has been involved with live theater plays, musicals, and education for 50 years, but he made the decision to fully retire from teaching this past summer.
The technical director for the show, Claire Paul, has been working with Brother Gary for the past eight years. Paul was originally was a student of his during her time at Chaminade. She has been an actress in his productions as well as working behind the scenes.
Since this is Bro. Gary's last show in the Loo Theatre, Paul gave it her all during the production of the show.
"We just really wanted to make it a pretty realistic bar and to just give his play the life that we thought it should have," she said. "We're just here to support him and his future retirement."
This play is the last chapter of the "Over the Tavern" trilogy of plays and the Pazinski family has gathered to say their final goodbyes to their recently-sold childhood home/bar. But when an unexpected blizzard arrives the mayor announces a driving ban throughout the city, they're trapped together in their old house, forced to confront and resolve lingering family issues through miraculous and comedic mishaps. Through all their trails and tribulations, the Pazinski family will discover the gifts of real love.
"It's really exciting to see all the shows throughout Chaminade being developed," Paul said.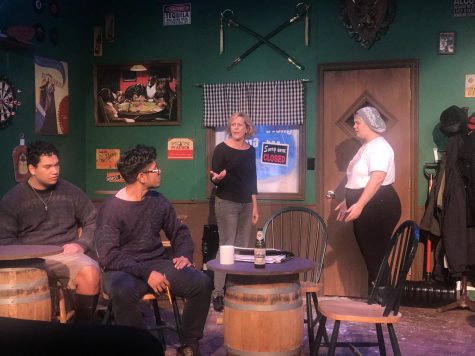 Morris discovered the play this past summer and he chose it because he felt that this show was great for a university theater program.
"I wasn't trying to choose anything spectacular," he said. "I was just trying to choose something that I think would work for the university. That has always been my goal, to try and have a variety of things but things that I think would be of interest to our audiences and our students."
"The Last Mass at St. Casimir's," by Tom Dudzick, will run from Friday and Saturday and into next week (Nov. 13, 14, 15, 16) at 7:30 p.m. with matinee showings on Sunday and Nov. 17 at 3 p.m. at the Vi and Paul Loo Theatre located on campus in Clarence T.C. Ching Hall.
Tickets are $10 for the general public and $5 for children, students with ID, faculty and staff. Ticket are available through showtix4u.com.