E-Cigs May Be Vaporizing Into Thin Air
A 24-year-old Communications major at Chaminade University has been vaping for over four years. He made the move to e-cigarettes in May 2015 after he was told it is better than smoking the old-fashioned cigarette. Last week, when the Hawaii state health officials issued an urgent advisory to local residents to stop vaping, the Chaminade student had to think twice about quitting.
"I have been using e-cigarettes for awhile now and I never once got sick from it, or at least felt sick from it," said the student, who asked to remain anonymous because of the sensitivity of vaping. "I feel that just like smoking cigarettes, [with] vaping you still get hooked to the nicotine, it's just from a different device."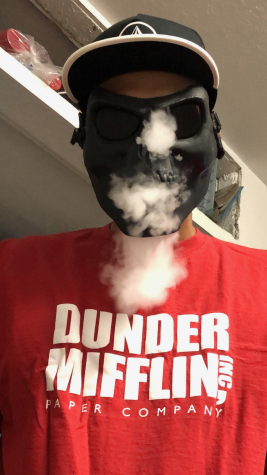 The state's warning came after it was brought to the attention of Hawaii health officials that a second vaping-related lung illness case became present within the islands. On Thursday, the case, which involved a 26-year-old adult from Kauai, was confirmed. Last month, a teenage girl the Big Island was the first reported case of a lung related illness due to vaping.
Vaping over the last couple of years has grown in popularity with the rise of e-cigarettes, which were introduced to the mass market in the U.S. in 2007. Vaping consists of inhaling and exhaling aerosol, which is often mistaken for water vapor and is produced by an e-cigarette. Studies have shown that the aerosol that is being inhaled and exhaled consists of fine particles that contain toxic chemicals that have been linked to cancer, as well as respiratory and heart disease.
Taylor Labanon, 19, started using vaping devices her senior year of high school at Damien High School and is now hooked. When she first tried it, she told herself that it wouldn't get to the point where it turned to a habit.
"I mean, I should quit but it's so hard," Labanon said recently. "It's just a habit that I have that I can't seem to break. It's sort of my second-hand nature."
Hawaii ranks second in the nation for e-cigarette use among high school students, with an estimated 25.5 percent currently vaping, which is twice the national average, according to Civil Beat. By law in Hawaii, to purchase and or to use e-cigarettes you have to be 21 years or older. In January 2017, Hawaii became the first U.S. state to raise its smoking age to 21.
"It's crazy to think about how many high school students that are vaping in Hawaii," said a professor at Chaminade who asked that her name be withheld. 'The fact that their brains are still developing and taking all of those chemicals in is worrisome."
Over 1,000 cases of lung illnesses and a total of 18 deaths nationwide have been associated with e-cigarettes. Hawaii health officials said that vaping is not a healthy alternative to cigarette smoking and are urging Hawaii vapers to stop while they can.
"The Health Department will move to ban any products that are eventually linked to the vaping-related illnesses and introduce legislation to further restrict vaping," said Gov. David Ige, during a press conference on Oct. 14.