Hawaiian Club Honors Mauna Kea With Annual Pacific Island Review Performance
After spending practically the entire summer on Big Island protesting and documenting the events at Mauna Kea, Kawena Phillips knew that Chaminade University's Hawaiian Club's 2019 Pacific Island Review annual performance should address the subject. Club officers Salena Honokaupu, Pohaikealoha Artates, and Megan Miguel agreed.
Phillips joined Hawaiian Club as a sophomore and, per request by the 2017 club president Crishelle Young, he immediately took on the role of an officer. Phillips was an obvious choice for the position because of his involvement in Hawaiian activism and politics, as well as his extensive knowledge regarding the culture's history. This desire to understand and share his background began in middle school and has continued to show within his work as a head of Hawaiian Club.
"Even at that age it felt very wrong, what had been done to us you know," said Phillips, a 21-year-old senior. "The illegal overthrow of Hawaii at gun point, the imprisonment of Queen Lili'oukalani, the banning of Hawaiian language, stripping Hawaiians of the land and voting rights, and then the bombing of Kaho'olawe … a lot of that just inspired me to really go out and learn as much as I could because, to me, it's important to know your history. To me, without knowing that, you lose your roots. And if you don't have your roots, how can you stand up straight?" 
To this day, Phillips continues to go up to Mauna Kea almost every weekend and has been able to keep the club informed on any updates as well as ensure a clear understanding on why this year's PIR performance would reflect the events happening on the Big Island.
Along with Phillips, club officers Artates and Honokaupu, both 21-years-old and in their senior year at Chaminade, contributed much of their experience as hula dancers to the creation of the performance on Friday. Five clubs (Marianas Club, Micronesian Club, Hawaiian Club, Tongan Club, and Samoan Club) performed at Chaminade's annual Pacific Island Review, and the Hawaiian Club contributed four songs (Ai Ka Mumu Ke, Ku'u Poli'ahu, No Ka Lahui, and E Na Kina) and two chants (I Ku Mau Mau and Ku I Ka Pono) to the evening. 
"I feel like it's a sense of grounding for me," Artates said. "Different people have different types of therapy, and I feel like its my type of therapy. Being grown in hula, and my mom being a teacher of hula, I was just kind of born into it and it's just been a passion of mine. I want everyone to experience the same feeling I have."
Dominic Coffey is a third year student at CUH from Huntington Beach, Calif., and one of the four members of Hawaiian Club (30 in total) who are from the mainland. Coffey joined the club this semester, hoping to become more fully rounded in his knowledge about the culture. So far, he has learned the basics of hula and different dances and chants, along with their translations.
"The sense of community in the island life … definitely has a different sense of community than on the mainland," Coffey said. "Not saying it's a bad thing, just saying it's a unique sense of accepting."
Together, the four leaders of Hawaiian Club have worked hard to keep up with finances, organizing events, and planning their PIR performance. From deciding what costumes to wear, to choreographing the dances, their dedication to the club was evident on the proud faces of each member as they performed what they had been preparing for since early September.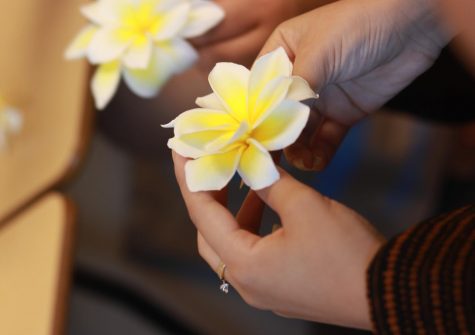 Their costumes for the night were inspired by the second dance, Ku'u Poli'ahu. It was performed by the girls and speaks to Poli´ahu, the Hawaiian snow goddess of Mauna Kea. To represent the snowy mountain, the women wore white plumerias in their hair and grey tops with white pa'us, or sarongs. The men wore black shorts with the same grey material for their wrap. 
After each dance and chant, the crowd gave a big roar to reaffirm the fantastic job Hawaiian Club had done.
"Getting to learn and perform the dances that we did was such an honor," said freshman Kahana Yokoyama. "It was enjoyable being with the guys out on the field and performing something that we've been working on for a while."