38th HIFF to Kick Off Films Thursday
In its 38th year, the Hawaii International Film Festival will feature 185 films from 35 countries from Nov. 8-18 at the Regal Dole Cannery Stadium 18.
The festival will kick off with a film from famed Chinese film director Zhang Yimou: "Shadow," which had its world premiere at the Venice International Film Festival. Opening night will also include several more films from Asia and the United States, such as "Memories of my Body" from Indonesian director Garin Nugroho and the documentary "Chef Flynn" by American director Cameron Yates.
For its centerpiece and closing films, HIFF will feature "Green Book" (starring Viggo Mortensen and Academy Award winner Mahershala Ali), which had its world premiere at the Toronto International Film Festival, and the world premiere of "Moananuiākea: One Ocean. One People. One Canoe" is directed by Na'alehu Anthony.
"We are thrilled to continue as the longstanding film festival of record for the Pacific and we look toward the future with excitement and new energy in 2018," Beckie Stocchetti, executive director for HIFF, said in a press statement. "This year's festival continues the success of our Made in Hawaii competition, shining a spotlight on Hawaii's creative entrepreneurs, and includes an incredible line up of groundbreaking work from across Asia and the Pacific Rim."
HIFF has 34 sections of films presented at this year's fall festival, featuring movies from the Asia-Pacific region, Hawaii, and many short films from independent filmmakers and college students.
The festival will also be featuring a new addition to its lineup, the Virtual Reality Lounge.
Although exact dates are not confirmed yet, the VR Lounge will feature films such as "Songbird," a film produced by The Guardian newspaper about the ʻōʻō, a now-extinct bird from the island of Kauai, and "Finding Haka," a New Zealand-produced film about a young Maori man trying to connect with his culture.
Stocchetti said that HIFF is proud to be able to use new technologies such as virtual reality to showcase films.
"These projects dive deep into the world around us here in Hawaii, highlighting the ocean, culture, community, and our connection to the environment," Stocchetti said in the release.
The VR Lounge will be held at The Barn at Salt at Our Kaka'ako.
In addition to films, HIFF will be honoring several actors and actresses from around the globe, including actress Awkwafina, known for her roles in "Crazy Rich Asians" and "Ocean's Eight", as well as New Zealand native Heperi Mita for his work in representing Pacific Islander culture.
Student showcases at HIFF
Films created by students from the University of Hawaii and Hawaii Pacific University will also be shown at the festival, as well as shorts created by primary and secondary students in Hawaii.
HIFF has partnered with the Daniel K. Inouye Institute to have a contest where students showcase a series of  student-made films inspired by Sen. Inouye's speech at the 1968 Democratic Constitutional Convention.
Winners of the contest will be able to meet and talk with Screen Actors Guild awardee Harry Shum Jr. at the Future Filmmakers Luncheon at the WaiWai Collective.
Volunteers still needed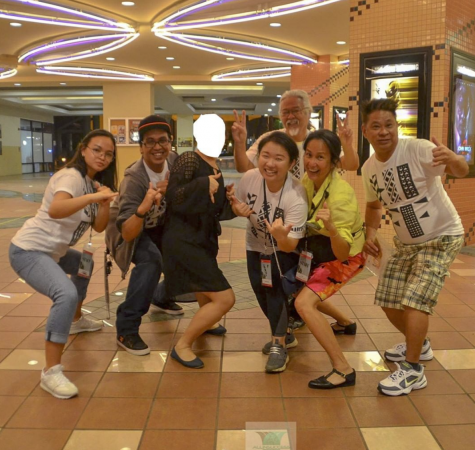 HIFF is still looking for volunteers, according to volunteer coordinator Bridgette Boltowski. Volunteers are needed for HIFF events such as theater operations, courtyard cinema night, translators, and other special events.
In regards to the importance of volunteering, Boltowski said those who do get to experience a different form of "cultural immersion."
"There is a cultural exchange not only through film, but with the people who come to the festival and are around us," Boltowski said. "We get to meet people from around the world, and they learn from us as much as we learn from them.
According to Boltowski, volunteer shifts run for five hours, and volunteers can get free food and ticket vouchers to HIFF. Scheduling is flexible, as she understands that many do have jobs or are still in school.
"The volunteers that come and work here get to form new friendships and bonds," Boltowski said. "Some even go on to marry each other."
Those who choose to sign up to volunteer can also participate not only in the fall festival, but also the spring showcase.
Interested applicants can contact Boltowski at [email protected].