'Mujō' Expressed Through Unframed Art
Rio Suzuki's art piece "Stream" received many positive reactions throughout the night. Standing approximately 4 feet by 15 feet, descending from the ceiling onto the gallery's floor. It took two months to execute and is made out of acrylic and tea on paper, according to Suzuki.   
"I have just fallen head over heels," said gallery viewer, Hope Crenshaw, tearing up. "The colors are so natural and organic, the shape is beautiful and just the fact that it flows."
"You can see yourself on a mountain top with no light but the sky and this would be the stars," she said later.
Yumiko Glover and Rio Suzuki had art viewers on their toes on a rainy Saturday evening. Both artist's installation art pieces were the center of attention at the "無常 Mujō: Aesthetics of Impermanence" at Koa Art Gallery on the Kapiolani Community College Campus.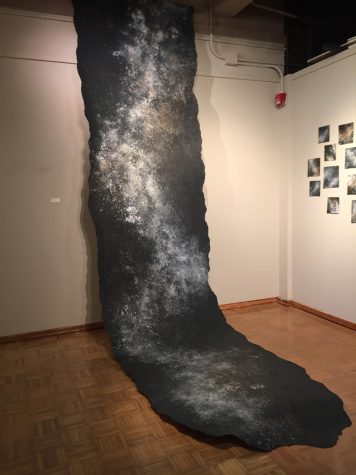 "I think for Rio's work, the one that is really impressing me is this large one that is coming down," professional artist Linda Kane said. "Now she is going into installation, rather than the painting format and hanging it on the wall whether it be large or small." 
"Mujō" comes from Buddhism and means impermanence or transience, that anything is subject to change. The traditional Japanese concept views impermanence in the interaction of life and nature.   
"I really feel with Yumiko and Rio work, it is very contemporary and it speaks to our time too," said Alina Kawai, gallery manager of Koa Art Gallery. "When you look at Rio's piece, it is finding beauty in chaos." "It is very abstract but I think you can find moments where you can appreciate and find a moment of pause."  
Glover showcased two main art pieces called, "Evanescence" and "Evanescence 08.09." Made out of acrylic, wood, and kimono fabric. "Evanescence" was installed in the center of one big wall, with individual acrylic painted wood pieces surrounding the centerpiece, scattering out. "Evanescence 08.09" occupied three walls, it's focal point was placed on the middle wall and defused out onto the two walls, alongside it.
"I like the fact that it goes around the room, there is no frame to it. It is open and it can go where ever you want it to go, you have a lot of possibilities," 41-year-old gallery viewer, Geoff Wooden, said while admiring "Evanescence 08.09."
Glover's description of  "mujō" was channeled through the devastating event of the atomic bomb dropped on Hiroshima and Nagasaki in 1945.    
"I knew it was different, [from what she did before], but it was kind of shocking," said artist Hiroko Sakurai from Kyoto. "Including the theme, it is a really heavy theme for us, if she has to do it, then you have to do it."
Kane, who taught Glover for two semesters in Figure Drawing at the University of Hawaii at Manoa, was pleased to see Glover stepping out of her comfort zone of acrylic canvas art.
"It is like new doors have opened up and a new investigation," Kane said. "The way she is deconstructing and constructing back again, three-dimensional work so it is just new to me."  
"無常 Mujō: Aesthetics of Impermanence" will be open to the public until April 19 at the Koa Art Gallery on the Kapiolani Community College Campus.