Bonnetty, Riggan Run for CSGA President, VP
Antonio Bonnetty is a Mississippi native who found his home, after 13 schools, here in Hawaii. A graduate of Moanalua High School and now a third-year Criminal Justice major, Bonnetty has set his sights on the position of student body president thanks to some persuasion from his running mate, Claire Riggan. 
Bonnetty, along with his running mate, Riggan, are running on a platform of togetherness. Being that Chaminade is such a small community of mostly commuters, they have made it their goal to make our campus the place to be. Getting students involved is the biggest challenge our candidates face. As a small school with mostly commuters, the campus can be pretty empty after school hours. A frequent complaint from dormers is usually "there's nothing to do on campus."
From speaking with the nominee and his running mate, it seems that one of their biggest goals is to be able to foster a more communal atmosphere among students. According to Riggan, they would like to push more activities for all students in order to make "Chaminade the lively campus it can be."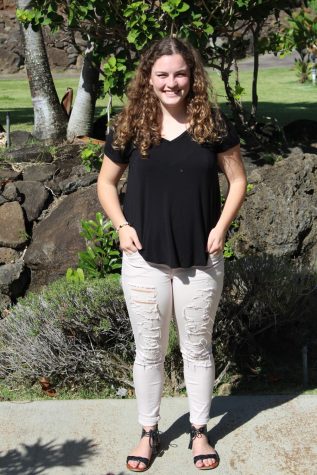 Speaking with Bonnetty has shown that he has the dedication to help improve the student life, among other things, around campus. When asked on how they plan on achieving their goal, they provided an entire packet of useful ideas and information. Ideas such as adding school activities with the input of the community, including the commuters, is a great start. Antonio has displayed his support for our school throughout many clubs and community service projects.
Speaking of community service, it will be a key part of their platform. Through various clubs and also Campus Ministry, Bonnetty hopes to bring students together while performing acts of kindness throughout our community. For example, he and Riggan plan want to introduce canvas painting classes for our students. With those classes, he hopes that Chaminade's students can create works of art that can then be sold to our alumni. With the money earned, Bonnetty and Riggan hope to be able to use the money to work on projects for the homeless or other charities.
Leadership is one thing Antonio is quite familiar with. He was named Chaminade's cross country team's Most Inspirational Runner in 2016 and has been a member of the Swords for three years. Head cross country coach Shadrack Nabea praised Antonio for his ability to lead his team.
"The way he interacts with the rest of the team members, not only at school but even in the field when we are meeting other schools, proves his leadership skills," Nabea said.
Riggan is a small-town Iowa native who chose to come to Chaminade as a Criminal Justice major as well. She is a member of the Chaminade Student Senate as a junior class senator and hopes to apply her experience within the senate to her position as vice president. 
Polls open on March 14 (8 a.m.) and close March 16 (4:30 p.m.). Visit the CSGA office (Ching Hall, outside of the Loo Center) or OSAL (Ching Hall #106) to submit a ballot.