Tucker & Bevvy Now Served at the P.O.D.
The P.O.D. Market, Chaminade's on-campus convenience store, has forged a new partnership with Tucker & Bevvy, a picnic food company that uses locally sourced, quality ingredients, and provides gluten-free and vegetarian options. Students seem to be oblivious to this addition and have no idea what this change means for them.
At the start of the 2018 spring semester, the P.O.D. began to sell food produced by the Waikiki-based picnic food company. Currently, the new options offered to students include a variety of sandwich bentos, acai bowls, salads, and vegetarian chili. Aramark introduced the new product to the P.O.D. with the hope of providing students with healthier and tastier options. However, with quality increase comes price increase.
"It would be preferable if it wasn't as expensive," said senior Lindon Kohama after he was made aware of Tucker & Bevvy's presence at the P.O.D.
While the idea of healthier food is appealing, Kohama would rather travel a short distance off campus to buy cheaper food in larger quantities. For $6, students can purchase a Tucker & Bevvy bento that contains half a sandwich, an orange, and a cookie. For the same price and a short walk down the street to McDonald's, students could get double the amount of food. Commuters like Kohama said they tend to avoid eating at the P.O.D. as much as possible due to the expensive prices, and will only purchase snacks and smaller food items if eating off campus is impossible.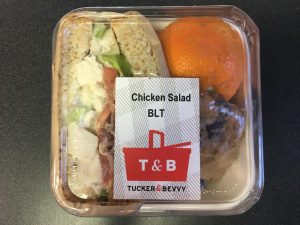 "I totally think it's going to impact students," Ashley Farin, junior nursing major, said. "Even though we should be getting healthier food, we're just poor college students. We're commuting, and we lack so much funds in general since we're paying for school."
Farin eats at the P.O.D. twice a week but restricts herself to a breakfast of fried rice and eggs so that the cost totals to approximately $3-$4. Even prior to the introduction of Tucker & Bevvy, the Kapolei local never purchased lunch at the P.O.D. because it was too expensive. She too was unaware of the new products and has never purchased a Tucker & Bevvy item.
"I do miss the old sandwiches because it was a third of the price," Jessica Roberts, senior from Snohomish, Wash., said. "But I mean I feel like [the P.O.D.] offers a good selection of what [Tucker & Bevvy] offers at its stores."
Roberts, who is double majoring in English and Psychology, has eaten at Tucker & Bevvy in Waikiki twice before, but only eats its sandwiches from the P.O.D. when she has enough money left over from the meal plan required from students who dorm on campus.
"I think for the P.O.D., they can price things however they want because it's a convenient option for people," Roberts said.
She doesn't think that this new addition to product selection will negatively affect the P.O.D.'s sales. However, Roberts said she wouldn't know about the availability of Tucker & Bevvy products in the P.O.D. if she didn't visit regularly.
Branden Vendiola, food service director from Aramark, said that the decision to introduce Tucker & Bevvy to the P.O.D. was a well thought out decision. He held a variety of focus groups with people like Allison Jerome, Dean of Students, and gave samples to students for feedback. The purpose of bringing in the health-conscious Tucker & Bevvy was to provide a wider variety of food options, especially for night and nursing students who are on campus during later hours.
As for the price, Aramark and Chaminade calculated that the average price per transaction at the P.O.D. is $6. Therefore, the Tucker & Bevvy products are $6-$7.
"You know, with me, anything is possible," Vendiola said of possibly expanding Tucker & Bevvy's presence to the Silversword Cafe. "It's about hearing what people want and making it feasible for what we can provide. I'm always open to bettering the relationship between Aramark and Chaminade and making sure the experience for the students and the faculty is the best that we can provide."