Commuters Feel the Increase of Bus and Registration Fees
Hang onto your pocket books Hawaii, hikes for bus fare and vehicle registration are to go into effect on Jan. 1, 2018.
After discontinuing its transfer program and replacing it with a $5 one-day pass program in October, TheBus is raising fees for riders yet again.
One-way fares will be going up 25 cents in the new year, making the rate $2.75 for adult riders. The newly implemented day passes will be increased by 50 cents, while a monthly pass will go up $10 making them $70 per month. Kelsey Pogtis, 20, is a sophomore Elementary Education major at Chaminade University of Honolulu that commutes to campus via the bus.  
"The fees for the bus are getting out of hand," Pogtis said. "The U-Pass (university bus pass) is really helpful during the semester, but when it expires during the break, that's going to be $60 a week for a day-pass to get to and from work."
The U-Pass, or university bus pass, is $225 regular price. For full-time day students, CUH offers the pass for $150 and $40 for students living in off-campus dorms. However, there have been no recent announcements from CUH or TheBus on an increase in this price. Pogtis is among many other students who feel the increase in fees deep in their wallets. 
"It's crazy at just how much they are trying to take from taxpayers," said 26-year-old Gregory Chang. "Luckily, there's the student bus pass that will alleviate some of the costs for me, but for my mom and grandma who catch the bus with monthly passes, that may hurt us in the long run."
In an interview with KHON2 News on Monday, Dec. 4 a city spokesman says the increase in fares was to stay in compliance with the "fare box recovery ratio," which states that 27 to 33 percent of the operating costs must be covered by the fare box.
However, commuters who drive their own vehicles face increases that could be more impactful than the 25 cent raise of the bus fare. The vehicle weight tax will go up next year 1 cent for every pound of a car, truck and commercial vehicle, according to KHON2.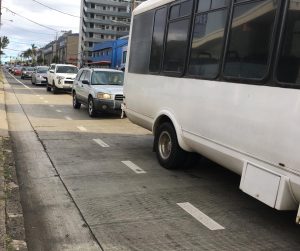 Melissa-Ann Cordeiro, 22, is a Religious Studies major at CUH who commutes to campus every weekday in her '99 Honda Civic.
"With the increase in the vehicle weight tax, I honestly don't know what my next registration bill will look like," Cordeiro said. "My car isn't really heavy, I think, but the fact that it is going up at all is something that could really mess me up financially."
The increases, while at just 1 cent per pound, could add up for heavier vehicles. A four-door sedan, like Cordeiro's, could see a $30 increase in vehicle registration fees.
"Working and going to school is a lot of work, but it is the only way to make ends meet," Cordeiro said. "The additional charges to my registration will end up taking bigger and bigger chunks of my paycheck and living in Hawaii is hard enough already."
According to KHON2 News, revenue from the increase in vehicle weight tax will go toward road repairs and public transportation, which includes the operation and maintenance of the rail.
The increase in transportation fees has many residents feeling the weight of their vehicles in their wallets rather than on their shoulders.