'Tis the Christmas Season at Chaminade
On Monday, Dec. 4 Chaminade University's OSAL (the Office of Student Activities and Leadership) organized a whole day filled with festive events for students in the Vi & Paul Loo Student Center located in the Clarence T.C. Ching Hall.  
The event, 'Twas the Light Before Christmas, held small activities throughout the day for students as they were passing through the Vi & Paul Loo Student Center. Egg nog and cookies were served all day, courtesy of OSAL. Small activities like Christmas Karaoke, Minute to Win It, Christmas crafts, and a  gingerbread house decorating contest were held starting from 12:30 p.m. – 7:30 p.m.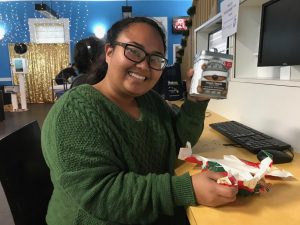 Students were excited to see how Chaminade decorated the Vi & Paul Loo Student Center. The student center was decorated with string lights hanging from the ceiling and red and green ribbons along the staircase.  
Jowenalyn Cadiz, a 24-year-old sophomore majoring in nursing, expressed that this was her first time participating in Christmas events on campus.  
"I've never seen the tree lighting ceremony here on campus and that's what I'm most excited about," Cadiz said. "I've heard of it before, but now that I'm familiarized with the campus and some of my friends like Jenny Rose are running some of the things, then I'm more interested in it."  
Although the events held at Chaminade were festive and fun, Cadiz would like Chaminade to keep up with the holiday spirit next year by participating in the Kaimuki Christmas Parade on Thursday, Dec. 7.
"We [Chaminade] do a lot of things on campus but it would be nice if we could participate in outside activities," Cadiz said. "It would be cool to see Chaminade in the Kaimuki parade." 
As for Nicole Visaya, a sophomore majoring nursing, the free cookies and eggnog caught her attention and convinced her to see what all the activities were like.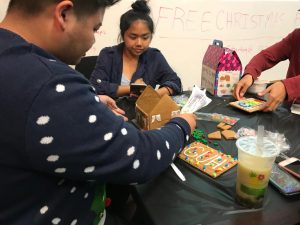 "I only came down here for the cookies," Visaya said. "But as soon as I saw the decorations I wanted to stay and join in on more activities." 
Visaya stayed to participate in the gingerbread house decorating contest, but she jokingly expressed that she shouldn't be having fun while final exams were next week. 
"Obviously you get to be free from studying," Visaya said. "But since it's finals, I'm thinking, 'Oh no, I need to study so I shouldn't be here.' But here I am having fun." 
On the other hand, Marvin Trantham, a 19-year-old majoring in business administration, soaked in all the holiday cheer despite finals. Trantham was festive with his blue holiday sweater that had a decorated Christmas tree embroidered on top. 
"Compared to last year it's a lot more festive," Trantham said. "There's more student involvement. People were singing and laughing earlier, singing karaoke."
Toward the end of the night, students gathered outside to see the campus Christmas lighting at 7:15 p.m. 
Pono Riddle, a 21-year-old senior psychology major, expressed how special the whole day was to him. 
"It's bittersweet knowing that this was my last Christmas at Chaminade because time went by so fast," Riddle said. "It was like I was a freshman and then 'blink blink,' it's already senior year." 
Riddle is thankful that he got to see his friends hanging out in the Vi & Paul Loo Center, participating in the activities.  
"I'm grateful for all the life-long friendships I've made," Riddle said. "Seeing all of my friends made me realize that I'm gonna remember all of this for the rest of my life. This event was a really nice time to destress and be with friends to decorate gingerbread houses." 
Eight events were scattered throughout the day, consisting of activities like Christmas Karaoke, Minute to Win It, Christmas crafts, a gingerbread house decorating contest, photo booth, "reindeer games," the lighting campus ceremony, and lastly a trolley at 8 p.m. that transported students to the Honolulu City Lights Parade.