Chaminade Organizes Striking Event at Aiea Bowl
On Sunday, Dec. 3, CSPB (Chaminade Student Programming Board) organized an event for all undergraduate students to celebrate the end of the semester. The event was held on Sunday before the last week of instruction at Aiea Bowl.  
Jenny Rose Anacan, the vice president of CSPB, organized the event for undergraduates. 130 people showed up to the bowling alley, ready to show everyone their striking arm skills.
Anacan, a 21-year-old psychology major, has to juggle between school and working with a few campus club events, but still manages to get every task done because of her organization skills. Despite her busy schedule, she was still able to pull together a fun event that was filled with free food and bowling.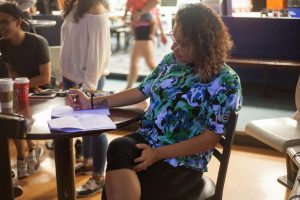 "I have a lot on my plate especially with two jobs," Anacan said. "I have an off-campus and on-campus job. I have CSPB, CSGA (Chaminade Student Government Association), and I'm an officer for TFC (the Filipino Club). Then I have things with campus clubs and then I have things to do with campus ministry over the school year. It wasn't that stressful because I organized all of my things so it was fine."  
The Chaminade students chose their bowling teams prior to the event. Each group of people had their own lane and eight lanes were reserved for the students.  
Attendees of the event were given an opportunity to strike out any thoughts of final exams and instead were left with the choices of which bowling ball to use and if he or she would be the one with the highest score. 
Although most of the students were laughing and having a good time with their peers, one student decided to bring her study materials to the event and not waste any time.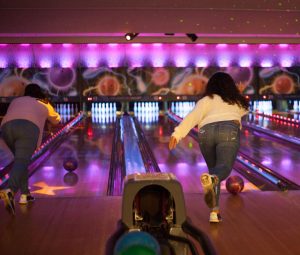 Kristen Perreira, a 20-year-old communications major, exclaimed how important it is for students to take a break time to time. 
"Bowling is fun and it's a great stress reliever," Perreira said. "I have a few finals so this was a great event to come to so I can hang out with my friends and put school to the side for awhile."  
According to the Chaminade's event website, Presence, CSPB "has been formed to develop a sense of tradition, variety, and diversity of programs in a coordinated manner. Through the Director of Student Activities, the Student Programming Board shall assist in the publishing of a planning calendar with Student Affairs, Campus Ministry, and other student clubs and organizations to enrich the co-curricular life at Chaminade University." 
CSPB has helped organized many events during this Fall semester with events like Commuter Breakfast, 50 Minutes Karaoke, Crunch Brunch, Feed the Hungry and Christmas Off Campus.
People can get involved with CSPB by running for positions to be on the programming board. Events can be found through Chaminade's website (www.chaminade.edu) or through an app called Presence that shows upcoming events at the university.
The End of the Semester Bash at Aiea Bowl was organized the week before final exams because it was a way for students to destress and celebrate the end of the school year. The event was successful with 30 people in attendance.