'Bittersweet' Farewell to Hawaiian Club Seniors
On Friday, Chaminade hosted its annual Extravaganza. Although a celebratory event for the Chaminade student body, faculty, and community, it was a bittersweet moment for the 28-member Hawaiian Club as half of its members are graduating seniors.
The Hawaiian Club was first to showcase its performance on the Sullivan Family Library Lawn. During the performance, the seniors of the Hawaiian Club were called upon one by one and presented with leis in honor of their hard work, dedication, and the celebration of their final Extravaganza. In addition to this ceremony, the 14 seniors were given a brief spotlight dance, which was shortly joined by the rest of the club.
Amongst the 14 seniors dressed in their hula attire was Kahiau McKeague, president of the Hawaiian Club.
"It's kind of sad, to be honest," McKeague said. "But it's bittersweet, I guess is the word. I'm happy to be moving on but sad to be leaving all my friends."
A favorite memory of hers revolved around the act of performing. Not for the spotlight or the music, but for providing a place and time where everyone could come together and demonstrate their hard work.
Joining McKeague in the senior ceremony was Jourdan Mills, vice president of the Hawaiian Club, and Kierstyn Oshita, both of whom were club members since their freshman year.
"I don't think it's hit me yet that we're seniors," said Oshita.
Aside from the seniors and students who dedicated their time and effort, one person who played a vital role in the Hawaiian Club was McKeague's father, who the club referred to as Uncle Jack. After four years of weekly practices and major performances, McKeague jokingly said, "he's tired," but loved working with the Hawaiian Club. Aside from bringing authentic Hawaiian culture and life lessons to the club, Uncle Jack provided his skills in ipu playing, singing, and chanting for practices and performances.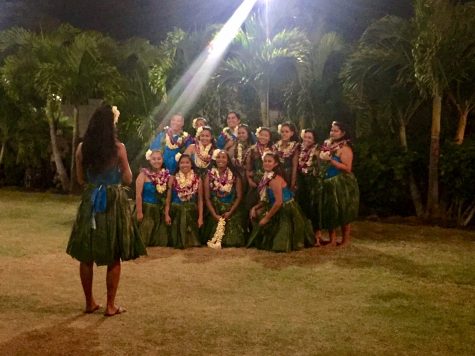 Stacy Mamiya, a mother to senior Jenna Mamiya in the club, acknowledges that Uncle Jack and Aunty Betty, McKeague's mother, "have been such a blessing" and that they "really take care of the girls" by showing what it means to have the commitment toward something you love.
"[Uncle Jack] comes every week to practice with us," said Sarah Vinluan, a senior and member of the Hawaiian Club. "So that's honestly one thing I'll remember the most."
As a tribute, Oshita said, "I will always remember that about this club, his long monologues about each of the songs in between sets," a little inside joke to those who know Uncle Jack.
Crishelle Young, current secretary and president-elect of the Hawaiian Club, adorned leis on the seniors that night with a battle of emotions between happiness and utter sadness.
"It's nice to see them happy and seeing them move on to bigger and better things," said Young, a junior. "And I feel proud of them. But it's going to be really lonely without them next year."
Young originally started her college career with this year's graduating class. She described it as a "bittersweet" moment to say goodbye to the class she felt really close to.
"I would like to say thank you to all of them for being there for me and the club," she said. "I'm gonna miss you guys and I know the rest of the club is going to miss all of them. It's not going to be the same without them next year. And I love them, each and every one of them."
Here's a full list of all 14 Hawaiian Club seniors:
Victoria Alakai
Shandon Ehia
Deandra Huffman
Chris Kanamu
Gracelyn Lorenzo
Jenna Mamiya
Kahiau McKeague
Jourdan-Marie Mills
Toni Mitsumoto
Martaluz Olang
Kierstyn Oshita
Ashleigh Taylor
Paula Untalan
Sarah Vinluan