CUH Students Oppose Trump Travel Ban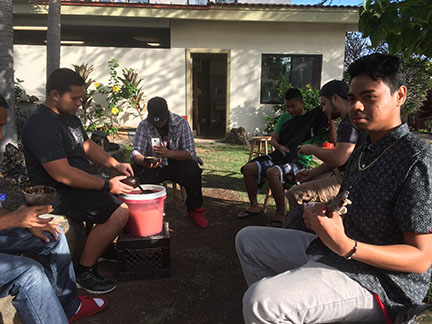 While many Chaminade students admitted to being far removed and unfamiliar with the details surrounding President Donald Trump's executive order that temporarily halted all travel from seven Muslim-majority countries issued on Jan 27, the few students who were informed about what has been dubbed the "travel ban" were greatly opposed to it.
"A lot of my friends say since I didn't vote [so] I have no opinion, but I have lots of friends from those countries or near them that are affected by it, and I worry about them a lot," said 18-year-old Charlynn Adversalo, a freshman at Chaminade from Salt Lake. "Trump may have good intentions, but he should consider the families and the personal lives of the people his ban affects."
The executive order banned all immigrants from Syria indefinitely, while immigrants from six other countries – Libya, Iraq, Iran, Sudan, Somalia and Yemen – have been banned for 120 days.
"People come here to seek opportunities, and it sucks that people who came here before Trump's presidency can no longer see their families or return to continue seek opportunity," said Andrew Ines, a 20-year-old junior from Honolulu.
The executive order was met with protests across the nation in large cities and airports. The protests are centered heavily on the ban's apparent Muslim discrimination.
"Generally I think I'm not too familiar with it aside that's it's mainly targeting the seven majority Muslim countries and, in regards to that, I hope that it's not targeting a specific religion," said Lindon Kohama, a 20-year-old junior from Palau. "Although from what I've heard it is quite prejudiced. America is built on the backs of immigrants."
U.S. district court Judge James Robart of Seattle halted Trump's travel ban a week after it was issued with a temporary restraining order claiming some key parts of the order as unconstitutional.
"I think it's ridiculous he's disguising it as a travel ban, but really it's a Muslim ban and he knows it," said Jaycie Dennison, a 20-year-old sophomore from Lake Elsinore, Calif. "With all the military funding we have we shouldn't be worried about terrorist attacks. He's using Muslims as scapegoats."
Dennison is so passionate about the effects of the travel ban that she is even writing a paper on the issue for one of her classes at Chaminade.
"I don't agree with his terms though I think if it had been anybody else it would be better," said Josh Soon, a 21-year-old junior from Oahu. "Nobody agrees with it."
Trump plans on rolling out a revised version of his executive order that meets the criteria of the legal system by Feb. 28. According to the Associated Press, the new order would affect the same countries but would only bar those without visas or who have never entered the United States before instead of immigrants with permanent residency or visas as stated in the previous order.