CUH has study abroad options for students
Even though Chaminade has no study abroad program, there are opportunities for students here to travel and study internationally.
Either through an outreach program at University of Hawaii at Manoa, scholarships, or Chaminade's own religious immersion programs, Hogan Entrepreneurs and Semester at Sea, CUH students have more openings to study abroad than they realize.
"Why do you want to graduate in four years? Why not experience study abroad? Five years is OK," said Yohko Aquino, an academic advisor at Chaminade University, who helps students here who want to study abroad.
Many students are unaware, uninformed and do not know the process of how to sign up for these programs, according to Aquino.
Chaminade has immersion programs run by Campus Ministry. The program takes students to Bangalore, India, for a five-week experience. Students get immersed in the culture while learning about the problems in the the country. This is a program where students get to see the world, but they do not earn any credit doing so. It is more like a holiday for students rather than a studying experience.
There is a program affiliated with Chaminade that has one study abroad program. The Hogan Entrepreneurs program offer students classes and experience in China, however, there is only one option that is available. Study abroad should not be limited to just one program, as some students may not be interested in going to China. Rather, students may be interested in going to Europe or South America.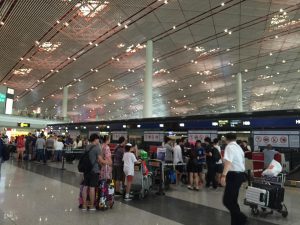 "Not many people apply. They do not know there is options that we promote," said Aquino. "Students think it might delay graduation and think it will cost a lot. It might delay, it will cost [a lot], but I want to talk directly to students."
An alternative route that Chaminade has taken is through the University of Hawaii at Manoa. According to the UH Manoa Study Abroad website, the cost of studying for a semester ranges from $7,135 minimum for China to $26,159 for Sweden. This is discouraging to CUH students because they have to apply separately for financial aid, whereas those attending UH can more easily get assistance.
Along with UH Manoa, Chaminade uses AIFS (American Institution for Foreign Study) as another study abroad option. Scholarships provided through AIFS can be taken to Academic Advisors to double check to see if the scholarships can be used for study abroad. AIFS provides more than 500 scholarships ranging from $1,000 to $18,995 per semester. With multiple options to go to study abroad, many students still worry about graduating on time.
"People who are afraid of making that transition from living alone can make the transition with study abroad," said Rachel Ornellas-Walsh, a junior studying religion. "They can live alone for that semester and then come back home. It will also give you a knowledge of what you want to do in the future."
Walsh is interested in studying in Japan but is conflicted with the options that are available here.