Students persevere in Na Liko Na'auao showing
Na Liko Na'auao, which began in 2002, is a special occasion that only happens once a year. Na Liko provides an opportunity for students to present their academic work in a formal setting, receive feedback from faculty and scholars in the field, exchange ideas with other undergraduate scholars, and build a resume.
On Friday, April 8, Na Liko began at the Mystical Rose Oratory with registration and introductions. The day then continued at the Clarence T.C. Ching Conference Center with student exhibitions of talented artists and researchers. Fine Arts Director Yukio Ozaki recognizes talent when he sees it, calling specific ceramics students to enter.
"I really support the activity," said Ozaki. "It all began such a long time ago, and I think it's great to get students interested in displaying or showing what they have done in any subject. Particularly in art, there is a certain sense of satisfaction being admired by other people," said Ozaki.
For science and biology students, Biology Director Dr. Patty Robinson makes a huge effort toward preparing her students for additional opportunities to present their work, potentially on the mainland.
Furthermore, effective presentation skills are valuable for all future careers. Thus, Na Liko provides an excellent public forum to practice skills, explore strengths, and identify areas for improvement. Participation is a wonderful way to share the excitement of learning and thinking with fellow students and faculty members.
Students who commit to Na Liko take this obligation as seriously as a professional endeavor. However, for some students, the pressure of quality as well as the feedback from others may leave them reluctant or cause them to shy away from the project.
Originally, Ozaki could appoint any student he wanted to enter the showing, but today's rules state that students must register themselves. For those who receive a scholarship, however, they must enter to prove what they have researched or what they have accomplished in terms of work itself.
"Students they are simply getting the attention they need to succeed," said Ozaki. "Even though so many don't express the will to enter, I start to say 'well how about you' when the deadline starts to near. And in the end, when they do follow through, the students are extremely satisfied. They dress up and take the time to explain the idea behind their piece so properly."
It's all well worth it end. If it wasn't for the tight timeframe from 9:30 a.m. to 1:30 p.m. in T.C. Ching Conference Room, the showing could have lasted all week, allowing more eyes to view and appreciate students' work.
From research presentations on marine debris and stream diversions, to acrylic paintings, ceramic pieces and 3-dimensional sculptures, the amount of talent engulfed in a single room was numerous.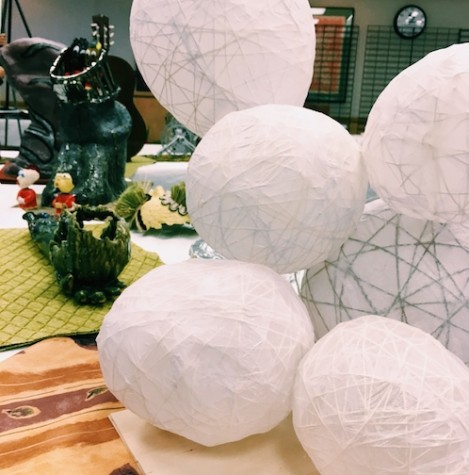 Senior Bella Lei presented "Balloon Formed Fiber Light," a sculpture that reflects a void from her last branch-like 3-dimensional project.
"The show had so many interesting projects with such deep meaning," said Lei. "Instead of using the motion of dropped leaves, I used string and covered it with rice paper in order to see shadows casting through the paper. What made my piece extra satisfying was that when the lights lit up you could also see a sort of multicolored effect."
This year's Na Liko showing averaged around 60 applicants, eight more than last year. For those interested in applying next year, registration begins in February and ends in March, via https://naliko2016.eventbrite.com.
For any questions regarding Na Liko Na'auao, please contact:
Hazel Quitog
[email protected]
Phone: (808) 739-8390