Reactions on viscous shark attacks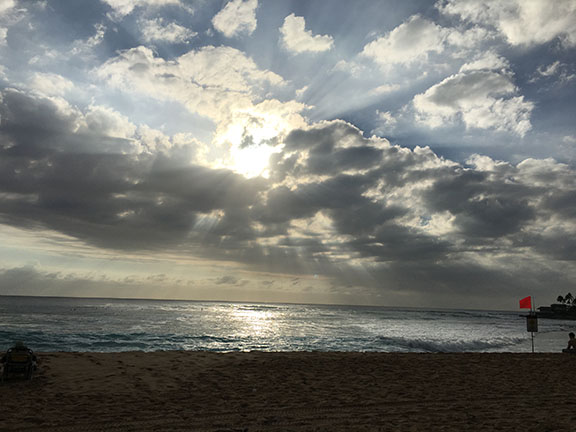 Last year, there were 10 recorded shark attacks in Hawaii, nearly double the number from 2014.
This increasing trend of shark attacks has been experienced not only in Hawaii but around the world. Last year set the record for the most shark attacks worldwide (98), with the U.S. leading with 59 attacks.
So far, two months into this new year, two shark attacks been recorded already: one in Maui on Jan. 23 and the other on Kauaʻi on Jan. 28.
"The recent shark attacks have been pretty scary to hear about especially since there's been a lot happening at popular spots that I frequently go to," said 20-year-old Maui native Kyle Brown, who goes into the ocean at least three times a week. "That thought of sharks being in the water is always in the back of my mind, but I try not to let that affect me going into the ocean. Since I'm a surfer, I learned that the ocean isn't just a place for me to enjoy, but it's the home of sharks and I have to respect it."
Sometimes they will mistake surf boards or swimmers for sea lions or seals which they feed on.
This is not their fault, they don't tend to attack humans on purpose. Here in Hawaiʻi the majority of the recent attacks happen to stand-up paddle boarders, surfers, and swimmers. On Oct. 17 there was an attack that took place in Kailua, Oʻahu, about 600 yards from shore at Lanikai Beach. The 44-year-old swimmer, Tony Lee, suffered severe injuries to both lower legs, losing one foot, according to the DLNR of Hawaiʻi.
In December, an attack happened at Pahoehoe Beach on the Big Island in Kailua-Kona approximately 600 yards from shore where an unknown species said to be 9 feet long bit off the tail of a stand-up paddle board. In January, another incident occurred involving the tail of a stand up board being bit off on Maui at Wailea beach from a 10-12 foot tiger shark, according to DLNR Hawaiʻi.
"It does affect me mentally, but it doesn't stop me from swimming in the ocean since I enjoy taking pictures of the waves," said 27-year-old Chun Chau from Hong Kong who attends Chaminade. "It is their home and we are swimming in it so we just need to be prepared for the worst."
There are more than 400 species of sharks out in the ocean. Seven of the incidents in Hawaiʻi last year involved tiger sharks.
Raymond Senensi, 10, was attacked while boogie boarding in shallow water about 50 yards off Makaha Beach. The tiger shark was estimated to be 10 feet and got a good chomp of the fourth-grader's thigh.
Tiger sharks are mostly found in tropical and warm temperature waters worldwide, this fits the water temperature here in Hawaiʻi and explains why they will be found in our ocean. Also, tiger sharks are found on surface, which is another reason why they will tend to think people swimming are a meal.
"The ocean is the shark's habitat; whenever you go into the ocean you are going into their home," said Valentina Bevilacqua, a 23-year-old former Chaminade student from Switzerland. "When they see you, they don't know what you are and you are in their natural habitat, so it scares them, therefore they are trying to protect themselves by attacking you. Every time I go into the ocean I know that there could be a shark anywhere, because I am in their home but I still go in. You just need to keep calm and enjoy the beauty you are able to experience."