A love for fitness and long-distance running
In the eighth grade, Jason Perez became interested in running marathons. He gained a passion for long-distance running and joined his high school marathon team. This sparked the motivation to participate in Chaminade's Fitness Club and eventually becoming co-founder alongside his older sister, Christela.
"Fitness is pretty important to me," said Perez, a sophomore majoring in communications. "I've been running marathons since I was in eighth grade and from then on each year I ran a marathon. I like to train and run, it gets me motivated. When I saw the club at school I thought that it was so cool, and I wanted to see if I could do it too."
Chaminade's Fitness Club has been active since 2014 and has around 15 members. The club has taken its members on a hike to Manoa Falls, which is considered easy terrain for beginner hikers with a beautiful 150-foot waterfall at the end. Unfortunately, the second hike to Judd's Trailhead off Nuuanu Pali Road was canceled due to a violation regarding outdoor activities affiliated with Chaminade.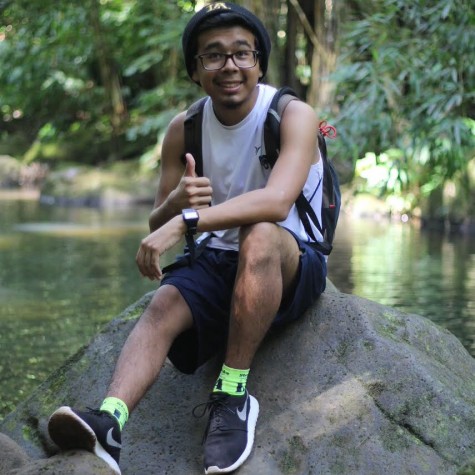 "We tried to do more hikes, but we didn't know that members needed to sign waivers, no matter how easy the hike is," said Perez. "My sister and I were kind of stressing over this issue. But next semester we will set up everything perfectly so that we can do more hikes and get people to be more interested in running marathons, maybe even start a Marathon Club."
Chaminade has immediately asked the Fitness Club to temporarily shelve any physical activities until proper paper work is filled out for each event. For now, the Fitness Club has halted any future hikes until next semester where it will be required to have members sign waivers for safety and liability purposes.
"I just don't like how there is so much paper work involved," said Lisa Marquez, a senior majoring in behavioral science and an officer for the Fitness Club. "It's just really frustrating dealing with the liability issues. We did all our paper work for the club and for us to have our club frozen from activities felt as if all our hard work was for nothing."
In the meantime, the Perez siblings have been training for the Honolulu Marathon on Dec. 13, which is a 26.2 mile race that will begin at Ala Moana Boulevard and finish off at Kapiolani Park. The Fitness Club hopes to get other members involved for future activities such as long-distance running and eventually create a marathon team.
"My sister and I run a couple of miles every now and then but sadly we have been lacking a bit," said Perez. "We decided to get involved with this club so that others could join us but so far for the Fitness Club it's just me and my sister training for the Honolulu Marathon."
For the remainder of the semester, the Fitness Club plans to schedule a BBQ during finals week for members to be able to bond and relax at the beach. It has also planned an end of the semester breakfast meeting at 8 a.m. on Tuesday, Dec. 1, at Fresh Cafe in Kakaako to recap and plan for future activities for the club. To RSVP for this event, contact the Fitness Club at [email protected].