Chaminade celebrates pacific culture
Chaminade had recently held its annual Pacific Island Review on Friday at the Sullivan Family Library's lawn in order to celebrate the backgrounds of many of its students.
PIR is one of the biggest events in the school's annual calendar. It's an opportunity for each of the clubs based on a Pacific origin to share its culture with many of its peers who may be unfamiliar with the traditions.
Five clubs demonstrates their culture through a form of dance while also providing a meal to help build up the relationship among the audience and participants.
The event was able to bring in a crowd that filled the balcony, the front steps, and the seating areas.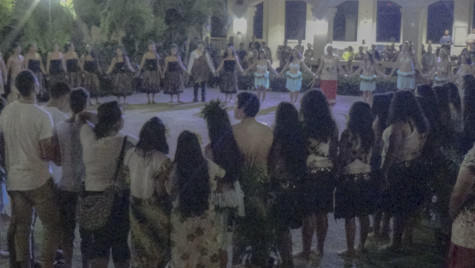 Michael Sakazaki, 20, is one of the students who participated in the festivities for the Marianas Club. He is a junior and also the president of the club was new to PIR. Sakazaki is originally from Guam but has decided to attend Chaminade as a basketball player after receiving an invitation from coach Eric Bovaird.
Although Sakazaki is a junior, this is his first year attending PIR.
"I'm the president so I thought I'm a junior now…I step up," he said during Friday's 3- hour event. " I said hey lets run this. Lets show where were from."
Sakazaki felt that there was plenty of potential to form a group since there is a sufficient amount of students from that area. This is the first year the Marianas Club has performed.
"With Guam, we have around 43 members in our club and the majority of them are from Guam and are students here," he said. "So, I said hey we have such a big group why don't we make a club a showcase our culture to our school and our new home."
The Marianas islands are made of four islands: Guam, Saipan, Tinian, and Rota. The islands are inside of Micronesia and have a similar culture to Hawaii.
"We call everyone auntie and uncle and give hugs and kisses," Sakazaki said. " It's very traditional. We give respect to our elders"
The Marianis Club began its Friday performance with a chant known as the Ospina, which is a respectful prayer for those going out to sea. It was followed by peskadote, which means fisherman. To symbolize this, the club was dressed as fishermen.
"Our kaki pants our rolled up, so if you go in the water it doesn't get wet," Sakazaki said. " We have our net for our fishing and then we have our white shirt."
The second song the club danced to was hafa adai, which shows the culture, livelihood, and respect in the area. Finally, it performed the Chacha, which is a dance that helps to show the bond of the people.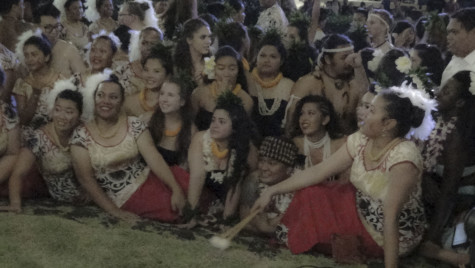 One foreign student from France, Chloe Leroux, had chosen to join the Hawaiian and Tahitian clubs in order to learn more about each of the cultures.
"I really love that I get to know all of the pacific cultures," she said. "I like to be a part of it and to fully enjoy it and to experience it."
One of her favorite aspects of the culture she was able to learn was dance.
"I did not know how to dance Tahitian before or Hawaiian," Leroux said. "Even though I made some mistakes, I was able to dance and so I wouldn't have been able to a month and a half ago."
The event was organized by the Office of Student Activities and Leadership (OSAL) to enrich the understanding of the locals to other areas.
Kristoffer Adams is a junior who had decided to join OSAL so he could better his planning and organizing skills.
"A part of it is that I really wanted to be a part of OSAL because it is a big part of the job to host and organize PIR and extravaganza," Adams said. "It's just being involved with the school is what brought me in to do this."