'Honu by the Sea' Performing at Hawaii Theatre
In the last year and a half, "Honu by the Sea" has taken its Hawaii-based musical to locations, including stops in Australia, Japan, Canada and the U.S. On Saturday, the musical will be residing in the Hawaii Theatre.
"As long as you have goodness in your heart, and love for the ocean, we can make the world a better place." Said Nicky Enos, a lead actress in the show.
"Honu by the Sea" is an acclaimed original musical first performed at the Royal Hawaiian in 2012. Once the musical became a hit among tourists and locals, the show "Honu" branched out and were invited to perform at aquariums across the country.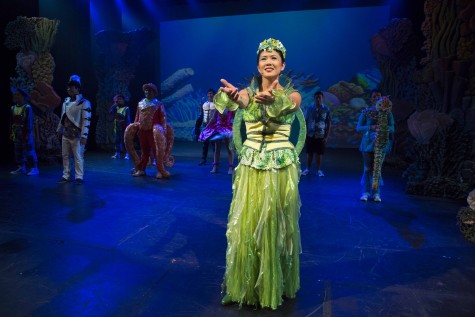 The tour season took the musical to the Smithsonian Institution in Washington, D.C., and landed them a partnership with the National Oceanic and Atmospheric Administration to go on tour for the next five years, empowering minds of all ages about the importance of ocean awareness.
The show is about a young boy, Kainoa, who takes a journey underwater with a magical sea star. He meets many friendly sea creatures who teach him how to help protect the reefs and guard the ocean from many other threats. All the sea critters have their unique duties to help keep their sea clean. Full of fun colorful costumes of octpus, sharks, turtles and many more, with catchy songs and a storyline that tells a story and message that the whole world should hear.
Johnson Enos is the mastermind behind this musical. He is a music producer, composer, and singer with past work at Aulani, Disney's "Lilo and Stitch II." He has worked with many-acclaimed Broadway talent such as Kristen Chenoweth, and Bette Midler.
On Saturday, Sept. 12, "Honu by the Sea" will perform in the Hawaii Theatre for the first time. Along with a new second act added to the praised musical, and this will be the first time performing in a theater as apposed to outdoor venues.
"Honu by the Sea's" lead actress, Nicky Enos, who plays the monk seal, has been involved from the start of Honu's journey. She has played several roles and knows the show inside and out, due to the fact her father wrote it.
"I think that it's such a great experience not only for the kids that come to watch the shows but for us as performers," she said, "Seeing how they react to the scenes and talking to them afterwards and hearing about what they learned makes me as an actor feel like I've done my job and did it right."
She continues to travel with the show and take on any role thrown her way supporting her father's musical and tell the story to audience's young and old.
Tickets: $5 for children
$10 for adults. Purchase at Hawaii Theatre's box office or go to Hawaii Theatre's website.