Club Fest excites, recruits new club members
It was a challenge for club officers to set up their club booths in such a limited amount of space under the tents of Henry Courtyard. However, the excitement of recruiting new students only motivated club members to set up poster boards and decorations in preparation of Chaminade's annual Club Fest event.
Club Fest was held in Henry Courtyard on Wednesday, Sept. 2, from 12:30 to 1:30 p.m. Chaminade hosts this annual event on the second week of every new semester.
"Club Fest seemed more festive this year than it was before, said Zainuddin Zawani, a 21-year-old business major. "There were a lot more interesting clubs, but if I could change one thing about Club Fest it would be where it was located… I feel like they should possibly move it to the Loo Center next time, where there is air conditioning."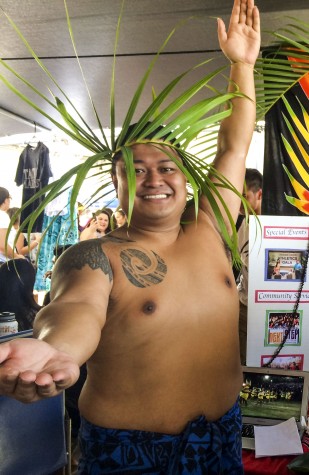 With the sweltering humidity last Wednesday, existing clubs such as Hawaiian, Tahitian, and Ohana Club still made appearances at Club Fest. Each club presented itself with decorated tables of brightly colored pareos and table cloths, tri-fold poster boards with pictures, and sweet incentives such as chocolate chip cookies, deep-fried Oreos, and candy for those who signed up.
The eye-catching decorations caught the attention of students passing by the courtyard during their lunch hour break. Popular clubs like Micronesian and Samoan Club had lines that extended outside the tents of Henry Courtyard. Music played in the background while they waited in line to sign up.
Some clubs have even focused their attention on raising funds for various organizations. Chaminade's Student Athlete Advisory Committee Club began pre-sales for T-shirts that say "Go Swords" and "Make a Wish" to help raise money for the Make-a-Wish Foundation. The shirts were sold for $15 each.
"Originally we designed the T-shirts to help fundraise for SAAC and Make-a-Wish," said Chelsea Camello, a senior on the women's softball team and secretary of SAAC. "But we figured that we have a really high goal to reach so we decided to just fundraise money for the Make-a-Wish foundation."
Although Chaminade has a variety of clubs on campus, the primary focus is to give back by volunteering time and helping out in the community. However, for Enactus Club, its mission is to give back to college students and help them stay on track by tackling situations that students may encounter on a daily basis.
"We don't do it just to help people, we are showing them a way to live their life and be able to support themselves without having to rely on other people to continuously help them," said Mahera Ahmed, 20-year-old psychology major and co-president of Enactus. "We find solutions to problems that we may face in the community, and then we get involved."
Participating in clubs allows students to work with one another, build relationships, and take on leadership roles that will eventually help them in the real world. For Cody Rapozo, a 21-year-old business major who is graduating in May, Club Fest has inspired him to want to get more involved in school and possibly even create a new club for students to join next semester.
"Club Fest is a great opportunity for students to get involved in extra activities besides class," said Rapozo. "It allows students to meet people that they wouldn't have met otherwise. It's a great benefit for students."