The deaths on some trails of Oahu proves to be fatal
Although the adrenaline rush and breathtaking views of Hawaii hikes are extraordinary, some deaths on the trails of Oahu have been brought to attention by a few concerned locals.
Although hiking in the Hawaiian Islands offer residents and visitors many opportunities to experience unique natural environments, climbing waterfalls and following narrow ridge lines or gulches off the trail can place you in great danger.
In recent events, 27-year-old hiker, Darlene Feliciano fell 500 feet to her death in mid-April from the Makapuu Tom-Tom trails in East Oahu. As her family and friends mourn the death of Feliciano, they mentioned that she died doing what she loved.
"All these deaths happening because of dangerous hiking trails should be an eye-opener to those who like to test their limits," said McKinley High School classmate of Feliciano, Hope Pomele. "Hiking should be safe and fun, not a risky adventure."
Most accidents happen when hikers leave the fixed trail and disregard warning signs. Staying on trail greatly reduces your chances of having a serious fall or getting lost.
Hawaiian forests are not like the mainland forest, the growth is very dense, and it is easy to become disoriented. Thick overgrowth can mask dangerously steep drop-offs. Thin, sharp lava rock can crack beneath your weight above deep holes or lava tubes.
"It scares me when my kids tell me they're going for a hike now," said 51-year-old Candice Pomele, mother of Hope Pomele. "I don't ever want to get a phone call about any of my kids because of something that could have been prevented, may God comfort the families going through such a terrible loss."
A trail and park survey conducted in the year 2000 pointed out that approximately 78 percent of the users surveyed were out-of-state visitors. Tourists downplay the risk because they're on vacation and want to maximize their enjoyment. But that excitement is often the reason why they lose sense of judgment when faced with possibly dangerous situations.
Johnathan McNeely of Lake Wales, Fla. died falling 50 feet off the Pali Notches in mid-March. McNeely was a 21-year-old in the Navy.
"Of course you understand the environment that you're in, and your capabilities," said 29-year old Mathew Mah-Kwan. "But you can be a professional adventurer and still get kicked in the butt by Mother Nature's bipolar climates. Common sense can almost always prevent serious mishaps"
Hawaii is known for a wide variety of ecosystems, so trails can take you to coastal dunes, shrub lands, rainforests and high alpine deserts. Level fitness, abilities, and experience should determine which trail is the safest for you.
"Planning your hike should be taken very seriously," said 23-year-old Bernadette Sword, an avid hiker on Oahu. "Getting information about the trail and checking weather conditions can help prevent you from hazardous situations."
Although hiking in Hawaii can be an exhilarating experience turning first-time tourists into repeat vacationers, paradise comes with its own dangers and every year the spectacular setting also proves fatal to a relative few and injurious to far more.
About the Contributor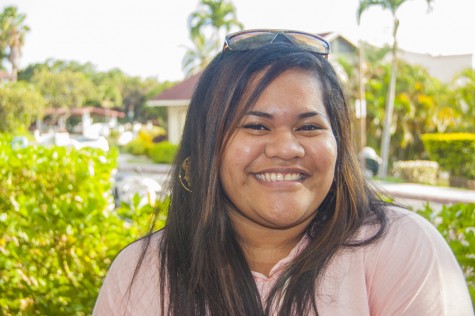 Victorian Lang, Staff Writer
Victorian Lang is from the heart of the Pacific called American Samoa and is a senior at Chaminade University. Victorian plans to move back home after...