The Hogan Entrepreneurial Program honored 25 inductees and 24 graduates with its 13th annual induction and graduation ceremony on Wednesday, April 22, at the Mystical Rose Oratory.
The chapel was filled with students, faculty, staff, and families supporting the inductees and graduates of the Hogan program. The ceremony began with Sean Keoni Craig giving a Hawaiian Blessing and oli, which is a Hawaiian chant.
Rick Tanaka, chairman and CEO of Tanaka of Tokyo restaurants, has been a big supporter and mentor of the Hogan program for many years and was asked to be the keynote speaker at the ceremony and was also awarded the Lifetime Achievement Award. In his speech, Tanaka emphasized the importance of perseverance to the future entrepreneurs in the room. With Tanaka being the speaker, he was also able to watch his daughter, Allison "Bo" Tanaka get inducted into the program as well.
Dr. John Webster, the director of the Hogan Program, had invited 12 representatives from each graduating class of the Hogan program from 2002 to 2013. Each representative gave a short speech about what their experiences were like as a Hogan student. Individuals who spoke, representing their Hogan class, gave thanks to the Hogan family for the support and input Mr. and Mrs. Hogan have provided for the program, gave advice to the inductees and graduates, and reflected on their time as a Hogan student and what they had gained from this program.
"I thought it was really cool to see the Hogan program bring back the alumni from the previous classes to come speak and have us listen to their stories and the history they had with the Hogan program," said Jasmine Cho, a senior and graduate of the Hogan program. "Being able to see how successful they are now in their careers is inspirational."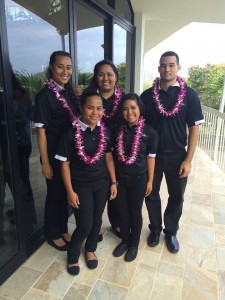 During the ceremony, the Hogan graduates were called up one by one to receive their certificate of completion from the Hogan Entrepreneurial program. The Hogan program offers a one and two year program for undergraduate and graduate students to take during their time at Chaminade University. Majority of the students who graduated completed one year, with only a handful of students who had completed the two year program. After the graduates were called up, the inductees all lined up to be called up. As each inductee was called up, they gave a short tribute saying who they were and what they hope to gain from the Hogan program. At the end, Mr. Hogan concluded the ceremony with his closing remarks.
"I thought the event went very well and the student testimonials is evidence of how much the program, via our benefactors Ed and Lynn Hogan, has helped them in their lives and continues to do so," said Ann Lujan Kishi, associate director of the Hogan Program. "New ideas that contribute to society and the well-being of communities benefit everyone, but also can make for successful, thriving businesses. This is the variety of entrepreneurial spirit we cultivate in our program."