Chaminade students present campaign at National Student Advertising Competition
Four Chaminade students presented a campaign to promote online ordering versus phone ordering for Pizza Hut at the District-13 Hawaii National Student Advertising Competition on Saturday, April 18.
Chaminade University along with two other schools, Hawaii Pacific University and Brigham Young University — Hawaii, attended the competition that was sponsored by the Honolulu Star-Advertiser. Each presenter was awarded a medal for contributing to the competition. Out of the three schools that participated, HPU won overall first place and awarded a check of $500.
In preparation for this event, the class of nine students came up with a marketing campaign to promote online ordering for Pizza Hut. It resulted in the creation of their campaign called "Pizza on Tapp."
According to the executive summary in the "Pizza on Tapp" marketing booklet, "The coined word 'tapp' has a variety of meanings. It can be taken literally as in tapping a computer mouse to order pizza online. It can be taken figuratively. … As fresh and readily available, i.e., 'on tap.' The additional letter p in the world 'tapp' alludes to applications or apps."
Jerry Guzman, Jasmine Cho, Melanie Schumilas, and Jolica Domdom (Staff Writer) represented Chaminade as presenters in the NSAC competition. The marketing campaign class had the entire spring semester to put together a 20-minute speech and power point presentation that would thoroughly explain the marketing strategy for "Pizza on Tapp" as well as win over the judges approval.
"We developed a campaign for Pizza Hut promoting a way to have folks order online versus actually calling in to order a pizza," said Guzman, an Environmental Interior Design major. "Pizza Hut is trying to find a way to save money by moving their phone customers to online customers."
Chaminade was the first to present at the NSAC competition, with HPU and BYU — Hawaii shortly following. Each school gave a presentation and quickly afterward the judges had a 10-minute Q-and-A session with the teams.
"The Q-and-A was very nerve wracking," said Cho, a graduating senior and Communications major. "I tried to imagine what types of questions they were going to ask, and it was nothing like I had expected. There was a lot of quick thinking needed, and I think the team answered the questions pretty well."
Cliff Bieberly, the advisor for the Communications department at Chaminade, was the supervisor for the marketing campaign class. Bieberly oversaw the entire creation of "Pizza on Tapp" and made sure that the students were contributing ideas such as marketing and creative strategy, social media, promotions, product placement, and budget just to name a few.
"Part of what makes this program interesting and partly a challenge is that a lot of it is subjective," Bieberly said. "If you have a good idea and the judges think that it's a good idea, then you have the possibility of winning."
HPU came out victorious and will be competing in the next round of the competition. If they win the second round of the NSAC competition, they will have the opportunity to represent Hawaii in the national competition, which will be held in Las Vegas in June.
"The team and I did really well," Guzman said. "We had a really cohesive presentation as well as valid points that we made. As far as presentation goes, there is definitely room for improvement. We could have used an extra week to practice more and an extra team member. It is what it is and we move forward with what we have. Based on timeline I think we did really well overall."
About the Contributor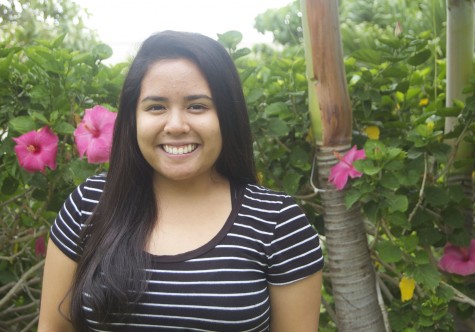 Jolica Domdom, Staff Writer
Jolica Domdom is a senior majoring in broadcast communications. She is a member of the Hogan Entrepreneurship Program at Chaminade University. She was...