Students inspire and create videos for the second annual Chaminade Film Festival
Laura Spiegel, a senior and Environmental Studies major, submitted a music video featuring the popular song "Uptown Funk" by Mark Ronson featuring Bruno Mars. Out of the many videos submitted, Spiegel's video won in the music video category.
Videos were separated into categories, which consisted of music videos, documentaries, commercials, and old projects from students. The submissions were then entered into the competition and three students came out victorious.
Spiegel created an energetic music video featuring the song "Uptown Funk" by Bruno Mars. Victorian Lang submitted a documentary video on the Taupou Legacy, and Julian Baet created an artistic video titled "To Be Honest." These three students were recognized for their creativity and were awarded a certificate for their videos.
"Well when I was working for OSAL, our boss Mak (Porotesano) told us to think about new events because the ones we were doing were recycled and getting old fast," Benson said. "So in order to have students come in and stay in the Loo Student Center, Mak urged us to think outside the box and be creative. So I went home and created a list of events. … Then I remembered that my high school had a film festival. Students could create their films and it would be submitted for recognition and prizes. I only participated my senior year, but it was so fun. So I thought why not bring that to Chaminade? I didn't expect it to get as big as it did, but now here we are."
The Film Festival, hosted by the Chaminade Student Programming Board, was held in the Vi & Paul Loo Student Center on April 8 at 4 p.m. The host and creator of the event was senior and Communications major Starr Benson, who also collaborated with the Chaminade Communications department in order to make the event possible.
Among the video submissions was a music video to the song "Bun" by Add Plus featuring professor Tom Galli's wife, Hannah who played a pregnant woman cooking in the kitchen in the black and white video. Seniors and Broadcast Communications majors Alanah Torre and Brandee Lima submitted the unique video that captured the attention of everyone in the Loo Student Center.
"So Brandee and I thought of the concept of the video through the lyrics to this one song we listened to," Torre said. "We interpreted the lyrics 'gotta make room for you in the oven' and 'one sweet day' as the singer having a child one day. From what I remember, we wanted it to be a bit weird, so that's why the woman in the video gave birth to a teddy bear."
Torre was one of the many videos received this year. With the great turnout of students who submitted videos and attended the event, OSAL will continue to host the Film Festival annually and receive submissions from students at Chaminade.
"I was incredibly happy that people submitted videos," Torre said. "I think that all the participants did a great job and that people got to view their work. There were more films than the first time, and I only hope that the Film Festival continues next year."
A video of the Taupou Legacy created by Victorian Lang.
About the Contributor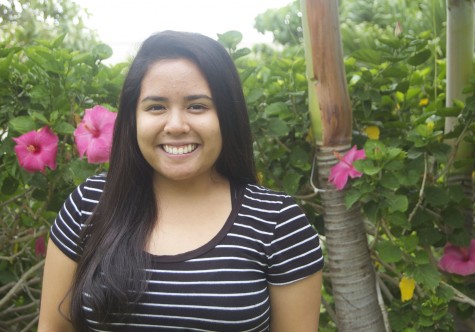 Jolica Domdom, Staff Writer
Jolica Domdom is a senior majoring in broadcast communications. She is a member of the Hogan Entrepreneurship Program at Chaminade University. She was...