Ramsay Taum speaks to Hogan students about leadership
Ramsay Taum, a leader and kumu, was the speaker on Wednesday, April 8 for the Hogan Entrepreneur students in Kieffer Hall at Chaminade University.
Taum spoke to the Hogan students about how to be a leader and what being a leader means to him. He explained how po'okela and kuleana means "leading with excellence." Taum used many Hawaiian words and sayings during his presentation to help emphasize his message, while also teaching the audience about the Hawaiian culture.
Taum gave many great points about being a successful leader, but one important point he gave was the image of "the empty chair."
"The empty chair is never really empty," said Taum. "The empty chair acknowledges and recognizes our ancestors. It acknowledges those who came before us, those who are in our present, and those who will follow as leaders."
Kumu means source or teacher, which Taum is to many people in his life including his students and his instructor who gave him the name kumu. Taum is the president and CEO of the Life Enhancement Institute (LEI) of the Pacific. LEI focuses on creating ideas of leadership and community. He has many leadership roles with his work and is continually looking for new leaders everyday.
He explained this image as the empty chair symbolizing our ancestors and who you are accountable to and what will future leaders in our world going to say. He asked all the students and teachers in the room who they are accountable to. In Taum's work he always tries to consider the empty chair when making a choice as a leader.
"I thought he did a great job. I love how interactive he was with the students," said senior, Viann "Harmony" Yomai. "His presentation was lively."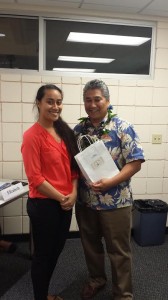 At the end of every Hogan presentation a Hogan student goes to the front of the classroom and give a short speech thanking the speaker for coming and summarizing what has been said. Yomai was the Hogan student chosen to summarize Taum's presentation.
"It is hard to say what part stood out for me because I liked all the points he emphasized," said Yomai. "From looking at everything with depth and transparency to caring for responsibilities instead of just knowing them, this presentation done by Ramsay Taum is definitely one of my favorite sessions that we have had."
At the end of the night when Taum was finished speaking, the Hogan students were able to ask Taum any questions that they had and they were able to interact with him. By asking questions, the students were able to connect with Taum and understand important ways of leading by example and inspiring others. He reiterated this by stressing the importance of leadership, responsibility, and community. When students were done asking questions, one Hogan student had the opportunity to be given the Hawaiian Leadership Award.
Senior Chelsea Cooper received this award, which is a monetary award of $1,000 from a non-profit organization, the Alaka'ina Foundation. This award is given out every year to a native Hawaiian who represents collegiate, leadership skills.
"I initially joined the Hogan program to work on my leadership skills," Cooper said. "To be recognized for something the community saw me improve on felt very encouraging."
About the Contributor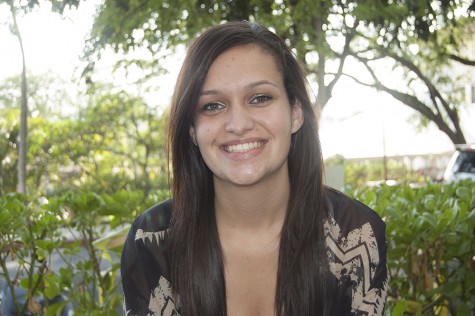 Alicia Mussman, Staff Writer
Alicia Mussman is a senior at Chaminade University majoring in Communications and will be graduating in May 2015. Mussman is originally from South San...